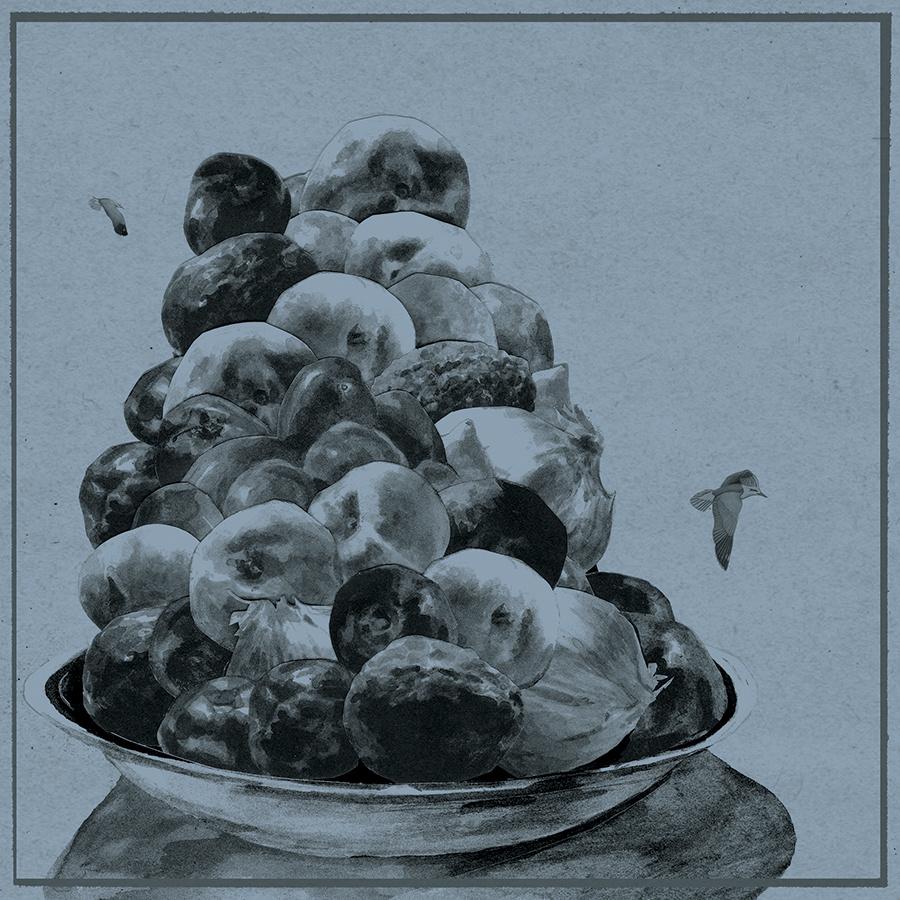 6 May 2015
Yes, I am a child of the 1990's. As such, I feel I have the license to walk around and tell everyone that will listen about how music's last great movement was during 'my time'. They just don't make 'em like they used to. At least, that's the narrative I like to go with. Every now and again, an artist comes around to prove just how full of shit I am. You see, for as great as the 'fuck it' aesthetic was during the alternative rock explosion, there were also a lot of pretty terrible habits. A lot of vocalists with absolutely no ability or charisma. A lot of Kansas flat production. Just a lot of poor musical choices made in order to serve the greater who-gives-a-fuck. So, it's actually really refreshing when someone comes along today and uses the influence of that period without making any of the mistakes. That's what we got this week with the new release Hop Along, Painted Shut.
Philadelphia's Hop Along is lead singer/songwriter Frances Quinlan, joined by Mark Quinlan (drums), Tyler Long (bass) and Joe Reinhart (guitar). The band started as an acoustic freak folk solo project in 2004, during Frances Quinlan's senior year in high school, then known as Hop Along, Queen Ansleis, which eventually resulted in the release of the album Freshman Year in the summer of 2005. Three years later, in 2008, drummer Mark (Frances' brother) joined the project, followed by bassist Long in 2009. In light of the new formation, the name was shortened, possibly to better reflect the change from solo project to full band. Up until this week, Hop Along had released one EP, Wretches, in 2009, and one full-length LP, entitled Get Disowned, which was released on May 5, 2012 to positive critical response. In October 2014, Hop Along signed to Saddle Creek Records (Big Harp, Bright Eyes, PUJOL).
Recorded and mixed by John Agnello (Kurt Vile, Dinosaur Jr., Sonic Youth) in Philadelphia and Brooklyn, you can easily hear Hop Along culling that 90's fuzz of Dinosaur Jr. or Sonic Youth, but they have a few more things going for them; namely Frances Quinlan. This woman has a set of pipes that would have made even the best Gen X bands envious. She's writing lyrics every bit as interesting as Mascis or Thurston Moore, but she has the added ability to screech the paint off of a wall, if she feels it necessary. For those of you listening along, you should at this point skip ahead to the song "Waitress" and listen for the words 'common kind'.
Other than maybe Chris Cornell or Scott Weiland, this is one thing I felt like we were always missing in the 90's. There were a lot of great songwriters, but rarely did you come across an actual frontperson. Hell, you were lucky if you saw a band whose singer did anything but stare into the microphone. Quinlan, on the other hand, is an almost primal vocalist, adding something extra to her lyrics that pull the songs together. Her slightly raspy delivery is almost akin to Lucinda Williams, but with whole lot more yelling and none of the twang. Past her raw energy, Frances can also bring more delicate vocals. There are more subtle moments on Painted Shut that would be reminiscent of something you might hear from The Cranberries' Dolores O'Riordan (like on "Texas Funeral"). Even when she is simply repeating a lyric five times over, Quinlan delivers with five different readings of the exact same phrase. That kind of range in style sets this sound apart from any one time period.
Added to that great vocal is some really strong production from Angello. This is one area of 90's revival that I've really taken issue with. Sure, those early Sebadoh recordings are still great, but it is in spite of the fact that the production was lousy. When I hear a band use that same flat sound today, it usually means I'll be turning the album off before finishing a first listen. Angello isn't lazy on Painted Shut. He gives the arrangements a depth that they wouldn't have been afforded twenty years ago and puts a shine on some great guitar work from Reinhart (while also rightly putting a bright spotlight on Quinlan's vocal at the top of the mix). It's also a little refreshing to hear some straight up production, that accents the strengths of the group without being over pronounced with unnecessary filters and effects. The star of this show is Quinlan. John Angello knows it and stays out of the way.
Painted Shut is a strong showing all around. The secret of Hop Along's success isn't something that should be that novel. As a matter of fact, it isn't anything new at all. They just write good songs and play the fuck out of them. Had this band been around twenty years ago, they would have fit right in because the material is strong above everything else. I wish more bands would be that derivative. If Painted Shut is a sign of things to come, I for one am hoping for a great big pile of records to come from Quinlan and Co. in the future.