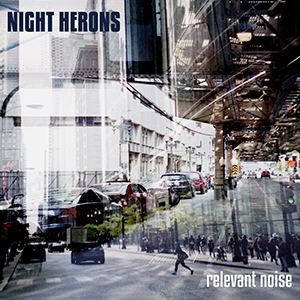 15 November 2017
Oakland's Night Herons have been steadily carving themselves a strong revivalist niche in the indie rock scene, combining the brutal sonic energy of The Stooges with an added touch of glammed-up sneer from the New York Dolls. Their second album, Relevant Noise, is, perhaps, more spaciously produced than their debut, but it is also arguably even rawer in terms of sheer force and drive.
Although touchstones like Iggy Pop sang with a postmodern attitude and a carelessness suited to The Stooges' chugging primordial rhythms, singer Dana Berry is more distraught about the state of the world around him, and consequently imbues his lyrics with a hopeless feeling of melancholy and confusion. Hard rockers are replete on this album, like "Compromise" and "Glaciers," but everywhere subversive elements of everything from '60s psychedelia and '80s post-punk sneak in, especially on "Wildfires," a real standout on the album.
With band member Larry Huene having recently moved to Chicago, the future of the band hangs somewhat in the balance, which is not to say the other members don't intend to keep going. Regardless of whether it will prove to be a transitory record or the end of one individual chapter in the band's history, Relevant Noise will stand as the testament of Night Herons truly coming into their own.