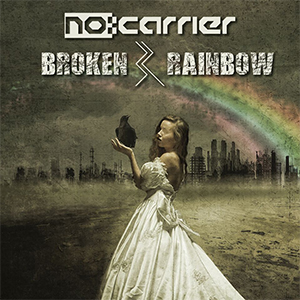 18 February 2017
One thing is for certain, no:carrier knows how to stick to their guns. The San Francisco synthpop band has a similar dedication to aesthetic and consistency as one of their biggest influences, Depeche Mode. On their fourth full-length album, Broken Rainbow, there's no big shake ups in terms of style, but rather the band, as always, continues to explore the darkest corners of their own trademarked sound and expand the fullness of its production.
Something that is different, however, is the political climate in which no:carrier find themselves. The relative stability of the past is gone, and instead replaced with a neurotic uncertainty that invades songs like "Little Death," and "Holy Judas," which is in itself about the necessary interplay between ostensible good and bad. Elsewhere, the lyrics deal with subjects as diverse as addition ("Your Heroin"), and the artist Louis Wain, famous for his anthropomorphic cats ("The Man Who Drew Cats").
A melodramatic cover of Creedence Clearwater Revival's "Bad Moon Rising" adds a more sinister element that was always lurking underneath in the lyrics, but as bleak as it all sounds, the album is surprisingly not all that dark. The tone is undoubtedly, yes, but no:carrier have never been a band devoid of hope—rather they're a band that often struggles to find it anywhere, while acknowledging it must be somewhere.
comments powered by