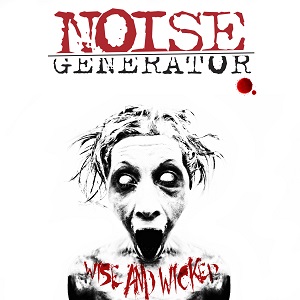 8 January 2015
A year after releasing their debut EP, No Rest for the Unseen, Paris' Noise Generator prove how far their industrial sound has expanded on their first full-length.
Wise and Wicked screams with aggression, yet is infectiously danceable. By blending Ministry-tinged heavy guitars with chanting Nitzer Ebb-like vocals and dubstep beats, the French duo craft cyberpunk songs raging with pop sensibility. Not afraid to branch out, they incorporate dub reggae into the mix, as in "L.O.W." and the closing "Aside," along with more straightforward metal industrial ("Shred") and driving electro-punk ("Buried Alive"). Somehow, they've managed to produce an album of thirteen distinct tracks that still bare the cohesion of a single album.
Now with their direction firmly in place, Noise Generator have only to grow within their expanding framework. Très bien!