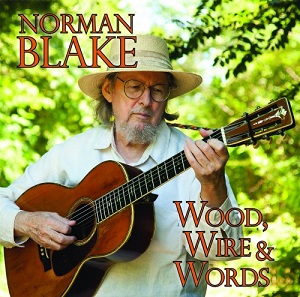 12 March 2015
Norman Blake is one of the key figures of the progressive bluegrass (newgrass) movement that caught fire in the 70's. Blake's pedigree includes backing folks like Bob Dylan, Johnny Cash and Kris Kristofferson. It also finds him recording with bluegrass luminaries like David Grisman, Sam Bush, and Vassar Clements. Though he's consistently appeared as a backing musician on landmark recordings throughout his career including Nashville Skyline and O Brother, Where Art Thou?, he has equally continued an admirable solo recording career for over 40 years. The trailblazing music cited throughout this notable discography has contributed much to neo-traditionalist Americana history and his newest album Wood, Wire & Words, continues that.
Blake is in fine instrumental form on "Savannah Rag," "Blake's Rag," and "Chattanooga Rag." He expertly shows darkness, grace and a sense of humor in his strings, which is not always felt in this kind of thing. "There's A One Way Road to Glory" is sung with his lovely partner Nancy. It's gospel earnest and plain delivery makes for one of the best cuts on the LP. "Joseph Thompson Hare on the Old Natchez Trace" is another highlight. A killer outlaw ballad with some fine pickin' to boot. "Cloverdale Plantation March" ends the set with some foggy flat pickin' from one of the greatest to ever live.
Blake did, does, and will always find his own fold in the large homemade blanket that is American music. Every record with his name on it, including Wood, Wire & Words, is significant. Play on, Norman!