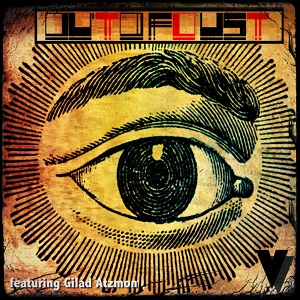 4 November 2015
Osaka, Japan's genre bending jazz maestros, Out of Dust, team up with controversial saxophonist, Gilad Atzmon, once again, this time in the studio for another eclectic collection of music.
Building from the fiery performances documented on Cycles earlier this year, Beholder in the Beauty successfully brings Atzmon's unique style into the Out of Dust sound. "The Wishing Well" opens with an ethereal improvisation that nods to ambient music and krautrock, traits that carry over into the spacey "The Soundtrack of You" (and its subsequent remix), both of which are augmented by Atzmon's hyper-sexual poetry recited by drummer Eric Wiegmann. Things get funky on "Loosen Up Life Is Short," allowing multi-instrumentalist Mark Elshout to show off his trumpet skills, while Garry Lindon's bass shines on the modern fusion sounds of "The Admiral Salutes" and "Stick em' Up." "Num3rology," however, recalls electric Miles Davis, especially in Vladimir Jocic's scorching John McLaughlin-esque guitar solo, and "Light as a Feather" oddly blends flamenco and klezmer into a unified whole. It's an exciting recording from beginning to end – unpredictable, yet cohesive.
If Out of Dust continue on this heady path, they will be regarded as one of the greatest jazz groups of the new millennium. Get into their rhythm and soar into the unknown.
comments powered by