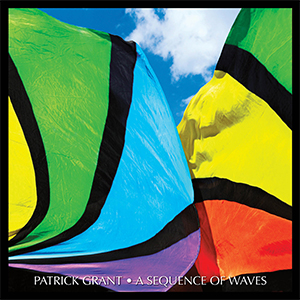 11 November 2017
After last year's highly original album Tilted Axes, New York musician Patrick Grant is back with A Sequence of Waves. It's an album even more structured and self-contained than his previous work, and almost never has his vision been clearer. The album artwork itself has a subtle suggestion of the stained-glass panes of a Catholic cathedral, hinting at a grander, monumental intention of the music in quasi-reverential tones. Even this melding of the pop world and the classical indicate Grant's eager wiliness play with traditional ideas and subvert them.
Indeed, rather than reoccurring themes present on this album and his previous discography, Grant has something closer to a mythology or an iconography that reappear over and over again in his work. A trilogy on the album—"Alcohol," "Tobacco," and "Firearms"—are clearly relevant to issues in America, and the artist seems to be creating a classical vocabulary for which this comparatively nascent country can express itself. In a country that has wholeheartedly embraced pop culture, it's only natural that songs like "To Find a Form That Accommodates the Mess" effortlessly blend elements from both prog rock and the orchestral.
A Sequence of Waves is no doubt a challenging listen that one can't simply put on in the background, but it is a work of art that rewards the open-minded listener with close, repeated examinations.
comments powered by