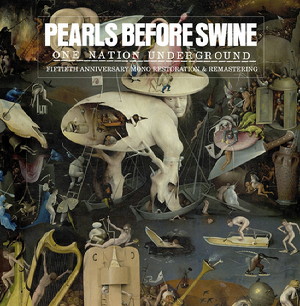 28 December 2017
Pearls Before Swine was a band that formed around 1965 in Eau Gallie, Florida by Tom Rapp. The group's name comes from a Bible passage: "Give not that which is holy unto the dogs, neither cast ye your pearls before swine …." (Mat. 7:6, KJV), meaning: do not give things of value to those who will not understand or appreciate them. One Nation Underground was originally recorded and released in 1967. It originally sold around 200,000 copies, but the band never got much out of it. However, this seemingly obscure band has been venerated by a generation and more, and the album has been reissued multiple times. Recorded at Impact Sound with Richard Alderson (sound man for Bob Dylan on his 66 world tour), this was THE cult album of its time, appreciated by artists as diverse as Leonard Cohen and Iggy Pop. However, not until this release has the music been returned to its creators, who restored the original mono mix from '67. Alderson oversaw the restoration and remastering of these tapes. Notes from Alderson and Rapp provide historical insight, and Rapp adds his recollections on each of the songs.
As I sit here listening to this record for the umpteenth time on this frigid December day, I am struck by the grace and beauty of the music, however sad some of of the songs are. It never strikes me as precious, but rather, it is like vintage lace that has been carefully preserved to be enjoyed by future generations. There are aspects of it that remind me of Donovan and Dylan flitting by, mixed with a bit of Jefferson Airplane and Moby Grape for good measure. "Another Time" is the pretty opening track, replete with Rapp's delicate vocals and hushed acoustic guitar. "Playmate" wears its Bob Dylan influence on its sleeve, though the banjo and jovial instrumental backdrop help it stand apart. "Ballad to an Amber Lady' is stylistically similar to the opening track, with strong, visual impressions painting multihued facets in this gorgeous tune. "Dropout" is lilting and beautiful, and I appreciate the lyrics about the whole world being in a hurry. It is certainly a timely sentiment! "Morning Song" has languid banjo and organ and wonderfully woozy vocals that easily can put the listener into a chill frame of mind. "Regions of May", which has oboe accompaniment, is so pretty. Final song, "The Surrealist Waltz", has vague Hauntology aspects and a definite melancholy air about it. It also has a catchy melody at its center, which can be discerned in the vocal work here. In conclusion, this is a really cool, vintage record that should appeal to fans of all the aforementioned groups.
Pick up the album over at Drag City Records.