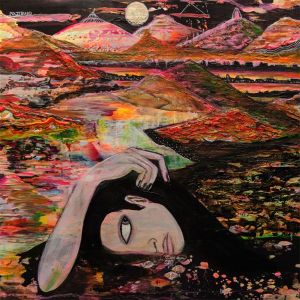 20 July 2016
Long-running, Mancunian, psychedelic rock/folk band Politburo has released "Barrington Way", the lead single from its sophomore album, Barrington Way, due on August 19th via Leonard Skully Records. The full album will soon be offered as a free download at the band's Bandcamp site.
Politburo formed in 1999 as a four-piece, but over the ensuing years the line-up has changed and grown, with the band now made up of founding members Nick Alexander (vocals, guitar, tambourine) and Dominic 'Dom' James (drums, percussion, keyboards), along with John Loveguns (guitar), Phil Meredith (guitar, keyboards), Steven Joseph (bass), and invited guest Chloé Sancho (vocals).
Politburo's sound has also changed over time, morphing from darker, elemental post-punk to a trippy mix of psychedelic rock/folk and alternative rock. The band has released 3 EPs and debut full-length Sally and Prinss Revisited to date.
The ambitious and stylistically hybrid new single and album-closer "Barrington Way" displays the retro, psych side of the band to epic effect by blending together 1960s-era, laid-back acoustic guitar strum, manipulated to direct vocals, pressing organ notes, peppering horn bleats, and the Beatles -like, swirling vocal harmonies.
As "Barrington Way" progresses, it intensifies with a blazing guitar line before transforming into another number altogether. As the guitar fuzz fades, the pace suddenly picks up with a lively bongos beat. What started out as a day-dreaming ode to the Beatles ' late-60s British psychedelia clarifies into a catchy and upbeat, but still-classic-60s, pop tune. Politburo takes it on home with a rhythmically choppy groove that recalls "Cherry Cherry" by Neil Diamond, quick, sharply picked acoustic guitar strum, and a multitude of exclamatory and calmer tone vocals that rise into a joyous chorus.