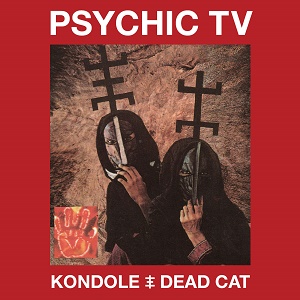 22 January 2018
After the demise of Throbbing Gristle in 1981, frontman Genesis P-Orridge formed Psychic TV with former bandmate Peter Christopherson as an audio/visual enterprise building on the cultish/improvisational mindset of their former group. By the late '80s, it was P-Orridge's project, but kept the visual element by producing soundtracks to experimental underground films. This release finally pairs the Kondole CD, a soundtrack for an unmade film originally released in 1993 for the US market, with the extremely rare 1989 film Dead Cat, written and directed by David Lewis.
The first CD contains the complete original forty-eight minute version of the Dead Cat soundtrack. If you've ever wondered what a stroll through Hell would sound like, here it is. Something that sounds like a twisted whale cry repeats over dark electronics, eventually building to a disturbing rhythmic cybermass of clanging percussion and monkish didgeridoo chanting. The overall effect blends Lustmord's sinister tones with Premature Ejaculation's unsettling atmosphere for an epic aural apocalypse.
Disc two delivers the aforementioned Kondole, consisting of three twenty-three minute tracks. "Thee Whale" uses hypnotic beats, whale songs repetitive synths to create a hypnotic shamanistic ritual. "Thee Shadow Creatures" continues in the tribal vein, building from warped, distorted drums and chanting to eerie proto-industrial electronics. Finally, an edited version of the Dead Cat soundtrack focuses on its nightmarish core by dropping you right into the center of the track's twisted soundscape.
As for the DVD, it contains the twenty-minute film Dead Cat, which was shown in a handful of theaters before dispersing into obscurity. Shot in stark black and white and featuring performances by P-Orridge, director Derek Jarman (In the Shadow of the Sun, Edward II as well as numerous Smiths and Pet Shop Boys videos) and actor Andrew Tiernan (Lock, Stock and Two Smoking Barrels, The Pianist, 300), it effectively blends early David Lynch with the science-based horror of Hammer fims. The story centers on a young man caught between a cultish gang and a Frankenstein-like machine in a shed, though it's probably better to watch it than read about it.
Genesis P-Orridge continues making genre-bending, thought-provoking music to this day, but this was definitely a high point in his forty-year career that should not go overlooked. Delve into the mind's shadows and experience an entirely new dimension of thought.
comments powered by