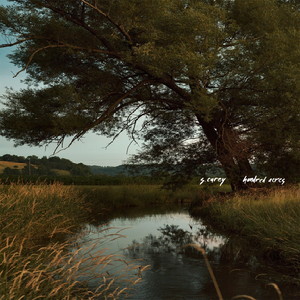 20 January 2018
I'd not heard much of Wisconsin singer/songwriter S. Carey before this release. That is a shame, because he pens lovely compositions drenched with emotion. Carey's easy, almost laid back approach speaks of confidence and clarity of vision. He was trained in jazz and it lends itself to the skillful presentation on this release. Written over the course of a few years, in between touring schedules and the growth of his family, Carey recorded, mixed and produced Hundred Acres at home and in various studios in rural Wisconsin with support from his longtime collaborators Zach Hanson, Ben Lester, and Jeremy Boettcher, as well as new contributions from Rob Moose (yMusic), Casey Foubert (Sufjan Stevens) and Sophie Payten (Gordi).
Leadoff track "Rose Petals" is one of my favorites in this song suite, both for its hushed beauty, the gentle haze that surrounds it like fine smoke, and the crystalline aspect of the lyrics. The lyrical imagery in this song and throughout this release are vivid, blooming in your mind and instantly setting the scene. This speaks to S. Carey's skill as a songwriter and arranger. Magical! "Hideout" is another stunning song, brimming with life-affirming moments, a wonderful amalgamation of folk and orchestral pop. "Yellowstone" is sophisticated and mesmerizing, and for a moment, I think of Simon and Garfunkel's timeless harmony vocals. "True North" is romantic and speaks of making a home with someone. I love the arrangement here with the slowly unfurling pedal steel.
"Hundred Acres" has light touches of tabla and ventures into psych folk territory. It is a touchingly pretty composition, and S. Carey has a terrific voice. I invite listeners to close their eyes while this song plays out. It sure seems like a sleeper tune to me, one that should be a hit. Why more people don't know about this artist is a head scratcher on some levels, considering what passes for a hit on today's radio stations. "More to See" also has interesting and cool textures, and is a slow burner of a tune. "Fool's Gold" follows on in splendid fashion, with a gorgeous arrangement as the centerpiece of this masterful song. "Meadow Song" is our final moment spent in S. Carey's recorded company, and it's a fitting coda to this album that flits between family, nature, and other themes. It's an understated moment of beauty on this lovely record. Don't miss it!
Catch up with S. Carey on his Bandcamp page and over on Facebook.