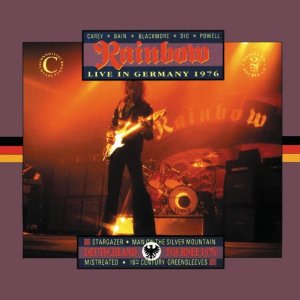 1 September 2011
After departing the best lineup of Deep Purple, guitar hero Ritchie Blackmore launched the heavy-hitting and mystical Rainbow with vocalist Ronnie James Dio. The band's lineup changed often. For the group's sophomore effort Rising, personnel included drummer Cozy Powell, bassist Jimmy Bain and keyboardist Tony Carey. This potent lineup would create only one studio album, but appears on the 1977 live album On Stage and is featured again here.
The set launches with the ferocious "Kill the King." Blackmore's machine-gun intro recalls "Bastille Day" from Rush's 1975 album Caress of Steel. The song would not appear on a Rainbow studio album until 1978's Long Live Rock and Roll. Different performances of the six songs captured primarily during a Japanese tour for On Stage are included on this new collection, augmented by an epic "Stargazer" and "Do You Close Your Eyes," both from 1976's Rising. These German versions are superior, and appear in their unedited length as performed.
A nearly sixteen minute version of Deep Purple's "Mistreated" is included. The band pulls the dynamics back to a whisper for long passages of Blackmore's improvisational blues playing before exploding into metallic catharsis, as Dio trades his middle-earth lyricism for David Coverdale's more conventional woman-done-me-wrong content. Things do drag on near the song's end, and the call and response section between Dio and Blackmore is more indulgent than pyrotechnic.
But then, what was Rainbow's purpose if not to allow Blackmore to follow his every musical whim? Though this set contains only eight individual songs culled from four shows, there are roughly an hour and forty minutes of music. To its credit, the band excels equally at delicate textures and unbridled power. The baroque intro of "Sixteenth Century Greensleeves" gives way to dizzying displays of classically-inspired shredhead guitar mastery and the diminutive Dio's towering voice.
"Catch the Rainbow" from the band's debut more than doubles in length, featuring stretches of gentle vocal harmony preceding an explosion of Powell's precise and thundering drum work. Powell features again with a skull-numbing drum solo during "Still I'm Sad."
Although it lacks the majesty which the Munich Philharmonic Orchestra provided as the centerpiece to Rising, "Stargazer" is a highlight here as well. After Dio introduces the song as the tale of a dark wizard who enslaves people and forces them to build an observatory tower, Carey performs an expansive synthesizer solo that must have blown stoned minds in 1976. The song unfolds into a formidable, self-contained hard rock opera.
comments powered by