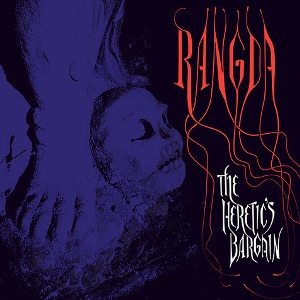 15 February 2016
The trio of Sir Richard Bishop (Sun City Girls), Ben Chasny (Six Organs of Admittance), and Chris Corsano (Flowers-Corsano Duo) , known as Rangda, are able to produce all kinds of ethnomusical heat when their powers combine. Their newest, The Heretic's Bargain, finds the trio creating a refined chaos that only an experienced group could pull off.
"To Melt The Moon" mingles assouf leads with surf rock and brilliantly showcases Corsano's staggering precision behind the kit. "The Sin Eaters" is a slow burner that takes a rock riff to its solar limits. "Spiro Agnew" finds Bishop and Chasny connecting mid song for what might be the the most salient moment of the whole LP.
"Mondays Are Free At The Hermetic Museum" is the biggest highlight on The Heretic's Bargain. Finally, after several albums, we get a track that is all encompassing! Clocking in at 19:09, the track starts with a communion reminiscent of the stunning Flower-Corsano Duo LP, The Radiant Mirror. It then moves on toward more eccentric guitar territory where Bishop and Chasny reign supreme. The band catch a serious groove halfway through that let's Bishop in his wheelhouse before jumping toward solar freedom.
The entropy these players are able to forge on The Heretic's Bargain is stunning. The album allows each player's strengths and impulses to shine. In short, The Heretic's Bargain, is Rangda at its most eternal and precise.
"Drag City":http://www.dragcity.com/products/the-heretics-bargain