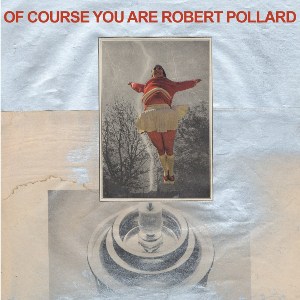 4 March 2016
It's hard to get excited about a new Robert Pollard solo record. It's like getting excited about a city bus; there will be another in 20 minutes. Despite the former Guided By Voices frontman's saturation in the record making business, he does occasionally come along and add a little more majesty to his already storied discography.
On his 24th solo record since 1996, Of Course You Are has some real moments of bliss thanks to Pollard's newest cohort, Nick Mitchell. As a member of Pollard's Ricked Wicky and his own Skeptical Cats, Mitchell subtly welds no frills production to Pollard's newest musings.
The lead off track "My Daughter Yes She Knows" is pure Pollard. It's heavy pop rock written for the arena, but built for the bar. "Long Live Instant Pandemonium" ups the ante with some serious rock moves not heard by Pollard since Doug Gilliard-era GBV. "Come and Listen" takes an odd but welcomed turn toward the Captain's more poignant side. It's stirring vocal and strings make it a highly effective deviation from Pollard's routine.
"Little Pigs" is where Pollard hits hardest on Of Course You Are. The simple song is so representative of what makes Pollard important. He continues to craft songs that are familiar, singular, and irresistible. The title track "Of Course You Are" is another highlight that, had it been placed on Side A, would have put Of Course You Are in the same ballpark as Not In My Airforce, From A Compound Eye and We All Got Out of the Army.
Of Course You Are is NOT the greatest album Robert Pollard has made since Bee Thousand or Alien Lanes, nor is it a "return to form" or his greatest solo album to date. What it is, is a highly enjoyable pop record with an amazingly strong Side A.
At a time when we are continuously losing musical heroes, we should rejoice that Pollard is still with us. As one of the most inventive and consistent artists of first-wave indie rock, Pollard continues along his trajectory on Of Course You Are with all his marvelous forces still in tact.