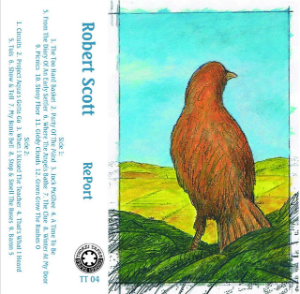 11 February 2017
I am not sure, but this may be one of the only reviews that exists for this excellent, offbeat compilation from Robert Scott (The Clean/The Bats/Magick Heads). Tom from Thokei Tapes contacted me out of the blue and asked if I would be interested in reviewing this along with some other gems on his cassette label. When I saw Robert Scott's name, I got very excited as I have been a fan of his since the 1980s. I have followed his bands and also enjoyed his solo work. And I have also been blessed with his live performances, both with The Clean (1989, The Rat) and The Bats (1992, Lupo's Heartbreak Hotel). Scott has written a ton of pop songs and collaborated with a lot of artists. He excels at everything he touches, ranging from chiming jangle pop and on to gritty post punk. His work always is a standout, and his voice is unmistakable. It's not a simple act to keep track of all his work, as he often sells rare CD-Rs at concerts or as downloads on Bandcamp. Therefore, Thokei Tapes has collated 21 of not so well known Robert Scott songs, which may not be known at all by avid fans.
Cover versions include Robert's great cover of The Sound classic "Party of The Mind". I have always loved that song, and it is strikingly different than the original. Robert gives off positive rays and chugs along in that charming way he always has. He also offers up a lovely, piano driven version of "Stop and Smell The Roses" by TV Personalities, and The Magick Heads version of "When I Kissed the Teacher" by Abba. Robert has also included two covers he recorded for Robert Burns compilations on Zelle Records. The lovely "My Bonie Bell" and the more familiar "Green Grow the Rashes". Opening track "The Too Hard Basket" appeared on one version of The Creeping Unknown and is typical solo fare for Robert, quirky, melodic, and always worth a listen.
"Jock McGhee" is a jaunty slice of folk rock from the Magick Heads. Robert's voice meshes perfectly with that of Jane Sinnott. "A Time To Be" is the sort of effortlessly beautiful song that Robert excels at, but I cannot trace its source. So perhaps it appears for the first time here, and thank God. It's a gem. "From the Diary of An Early Settler" is pensive and solemn, yet warmed by dappled sunlight on the bridge. "Where the Angels Bathe" is the title song of a Dunedin various artists compilation by Toast (Scott plus brothers Richard, David, and Jim Strang). "The Clue" is hushed and tranquil, sounding a lot like the quieter work of The Bats. "Winter At My Door" is winsome and has choppy but infectious guitar and violin on board. It's a song Robert recorded with a side project that included David Kilgour called Rough Church. "Picnics" is a collaboration with vocalist Gina Rocco and it's the perfect summer soundtrack for dipping your toes in sparkling river water and watching the world float by. "Stony Floor" is yet another lovely gem, and you wonder how Robert keeps cranking out work of this caliber. We used to always joke there was something in the New Zealand water which caused all the brilliant music over the years, but who knows? Maybe it's living in such a fantastically beautiful place, distant from the sturm und drang of the rest of society.
"Giddy Clouds" is lo fi and charming, and it sounds like accordion accompanying the guitar. "Circuits" is another brilliant duo with Gina Rocco, catchy as hell and containing sweet harmonies. "Project Aqua's Gotta Go" is equally pretty and memorable, and I fear I am going to run out of superlatives here. Plus the lyrics…so timely in light of what is happening in the world! "Tuis" is a fine folk ditty, swimming with longing and beauty. The final track is "Baron 5 (Harmonic Deluxe)" is a long, rather psychedelic instrumental, and it caps up this fine collection with a soft bang as it quiets down like the sun going to bed at night. Highly recommended for all fans, or anyone who loves music from the Flying Nun era.
Buy the cassette or digital release over at Thokei Tapes.