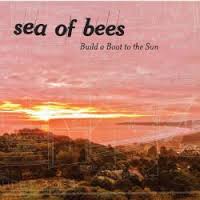 19 July 2015
Since the start of the decade, Jules Baenziger—who trades as Sea of Bees—has released several lovely, low-key records, often about the pains of love, the angst of young adulthood, and life in general, with a looming darkness casting its shadow on her otherwise sunny, Southern California sound. Her third album, Build A Bridge To The Sun, finds her maturing in sound, her arrangements becoming warmer, sunnier, and shinier, courtesy of a 70s rock vibe that's not unlike that of touring partner Jason Lytle's band Grandaddy.
If there are dark clouds to be found, they're in the distance, rolling off into the horizon. The cooing on album opener "Test Yourself" will quickly put a smile on your face, and that happy-go-lucky vibe continues on throughout the rest of the album. The mellow, easy rockers of "Ease" and "Dan" sit nicely alongside the catchy pop of "Dad" and "Karma Kard." Thanks to the variety, the album never falls victim to monotony—one of the more annoying trends of country-rock records like this.
"I never thought I'd grow so strong," she sings on "Little Sea," and truer words were never sung. Build a Bridge To The Sun is a warm, glowing record that glistens in newfound happiness and maturity. While one might speculate on exactly what has inspired this chipper, upbeat spirit, it ultimately doesn't matter, because the positive vibe is utterly palpable, making this one of the nicest summertime vibe records of 2015.