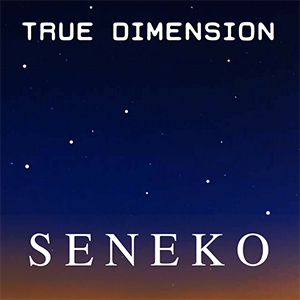 18 December 2017
Seneko, aka the solo project of Connecticut musician Stan Olshefski, is firmly rooted in the alt-Americana niche that has far more in common with the vanguards of Power Pop than the hit-makers of today's Country charts. True Dimension is his sophomore release, and it builds significantly upon his self-titled debut EP. The hooks, the production value, and Olshefski's songwriting are all beefier and more consistent; although Seneko had some very fine moments as well. Wilco and The Jayhawks remain his most obvious influences, but he has firmly stepped out of their shadows and a truly original voice has started to emerge.
The six songs, for the most part, continue with his favorite themes of love and romance, and amazingly each one would make a fine lead single. "True Dimension" is a definite stand out with its backbone of a steady and repetitive bassline, and its '80s post-punk touches would have made it a great song for a band like The Psychedelic Furs. Even the relatively novelty-ish "My Little Curioso" is infectious in its cheesy self-awareness, and does a good job of lifting the momentum after the fine sentimental ballad "You to Save Me."
True Dimension is a must-listen for anyone who loves Yankee Hotel Foxtrot, but most importantly it only heightens the anticipation for the inevitability of a full-length from Seneko.
comments powered by