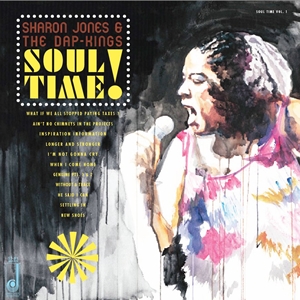 25 November 2011
Happy Black Friday. If you go anywhere to shop today, head to your local indie record store and give thought to this, the second Sharon Jones & The Dap-Kings review of the week.
Popular modern R&B owes a lot to Gabriel Roth, a.k.a. Bosco Mann, and his Dap-Kings. Their contributions to Amy Winehouse's megahit Back To Black gave the project its authentic soul roots. Winehouse herself serves as the ultimate mouthpiece for the band. Sharon Jones is an equally perfect, albeit very different, vocal instrument. Personally, I love Jones & the Dap-Kings (last year's I Learned The Hard Way was astounding) more than any of the other R&B revival acts that have garnered more popularity (Adele and Duffy, for starters). They have a more raw sound. Most of the content on Soul Time! is up-tempo. To be fair, this is a collection of non-album tracks, not one cohesive record. But there are some excellent offerings here. "I'm Not Gonna Cry," and "New Shoes," have a very classic feel. And while I am someone that finds horns are often too abrasive, they are no more effective than on "When I Come Home,". And while the first eleven tracks are solid originals, for me, the reason to get this is the brilliant cover of Shuggie Otis's "Inspiration Information,". That song was my introduction to the band as it appeared on the Dark Was The Night benefit compilation. It is a fitting end to this collection as it embodies the concept of the group. Taking a style from the past and putting their spin on it. Of all of the "Black Friday" music releases, this is the one piece that will be worth the asking price.
Check out the review by Jeff Elbel on SJ&DK's "He Said I Can," single (the A-side is also on Soul Time).
comments powered by