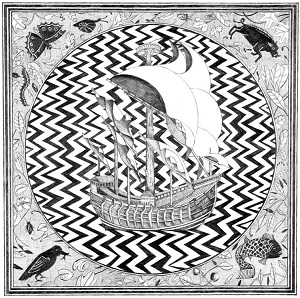 21 April 2015
Shirley Collins is a celebrated folksinger whose esteemed role in Britain's second folk revival cannot be overstated. Not only did she travel in the mid 1950's alongside Alan Lomax and was once married to Ashley Hutchings, a founding member of three of the most noteworthy bands in the history of English Folk Rock, but she also managed a startling 20+ year music career (1959-1978) that both carried on and broke the boundaries of Albion traditional music forms.
On Record Store Day (April 18th, 2015), Earth Recordings released Shirley Inspired. A massive 3 LP set of Shirley Collins covers by musicians the world over. The set includes takes from among others, Will Oldham, Graham Coxon, and the legendary Bonnie Dobson.
While most tribute albums go the way of recreating the songs of an important artist, Shirley Inspired allows room for its artists to freely evolve the songs the way they see fit – just as Shirley had done in her own time. Album opener "Pretty Saro" performed by Bitchin Bonnie Billy Bajas (Will Oldham backed by Bitchin' Bajas) lets the analog synth drone lay the framework while Oldham's vocals soar lonely above the aura. Johnny Flynn's "Rambleaway" takes a traditional route that's more in line with Collins' own approach. Much like Collins, Flynn sounds genuine and even inventive within the conventional confines.
Graham Coxon treads on Davey Graham territory on the Collins classic, "Cruel Mother." Similar to Graham, Coxon isn't the best singer but he does more than his fair share of great playing. Though the distinctive vocals of Collins are missed, the spirit of Shirley and the centuries old song itself are clearly present in Coxon's reading. "The Blacksmith" is interpreted twice on the comp by Angel Olsen and Ned Oldham. Both fall flat. Olsen comes off as impossibly precious and Oldham gets too far into oddball pop territory to take it seriously.
Josephine Foster takes "Love is Pleasing" from the classic Folk Routes, New Routes and moves it into almost operatic territory. It's an unorthodox reading that is almost unrecognizable to Collins' version upon first listen. That does not mean it is without it's own virtues, instead it speaks to the vitality of Collins' music and to Foster's own place as a visionary within the context of folk music.
Collins' allure remains within her ability to retain the original honesty of the traditions she worked to challenge and uphold. No matter the song, its story or its origin, Collins (and her rare voice) brought sophistication without damaging the lucid sentiments within – oftentimes enhancing them. Shirley Inspired exposes the timelessness of Collins' music and the traditions she served to test and sustain. The depth of each contribution speaks to her significance and signifies the room still left to explore within the realm of British traditional musics.