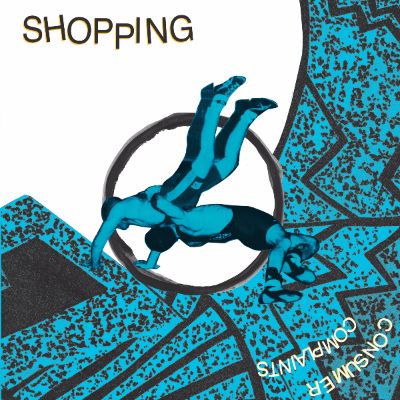 27 May 2015
The three-piece Shopping was formed in 2012 by Rachel Aggs (guitar), Billy Easter (bass) and Andrew Milk (drums), all of whom have done time in a plethora of notable UK DIY bands including Trash Kit and Wet Dog. They pull from a well of 70's post-punk with a voraciousness seldom seen these days, bringing to mind the jagged aggression of Gang of Four, the voracious yelp of The Slits and the dance inducing thrust of Delta 5, Social Climbers, the B-52's and ESG. Though, because Rachel Aggs is a female in a decidedly confrontational and world beat influenced band, I imagine you will see a lot more references to The Slits thrown around than anything else.
The band released their debut album, Consumer Complaints, last year via their own MÏLK records, hand-delivering copies to record stores all over London. As they sold out of their first pressing almost immediately, it was easily apparent people couldn't get enough of their undeniable groove riding, tough talking, life-loving post-punk funk. Now, the band has signed to FatCat, who finally gave Consumer Complaints a U.S. release this week.
Consumer Complaints is an uninhibited collection of fun dance songs. Sure, there are plenty of fragmented lyrics that are probably about something political, but it matter little when your ass is shaking involuntarily. Coming from someone with the coordination of a drunken ape, that is a pretty massive comment. I creeped out just about everyone at the office dancing along to this record with the headphones on. I imagine it was a sight that will emotionally linger with more than a few of my co-workers for life, but I didn't really give a damn. When Easter's two-ton bass line comes together with that fantastically razor thin, metallic guitar of Aggs, it is a recipe for the all-powerful groove machine.
While Shopping is clearly heavily influenced by those post-punk references mentioned earlier, they avoid the pitfall that many contemporaries fail to cross. Namely, they don't sound like a barely warmed over version of better Gang of Four records. These songs sound vital and inspired, as if these sounds had never been created before Aggs, Easter, and Milk came together. That takes Consumer Complaints out of the category of homage (the album you play once and forget) and into your constant rotation.