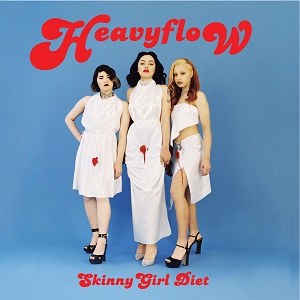 2 November 2016
Three years after their side of a split 7" with Ethical Debating Society blew minds here in the US, London's Skinny Girl Diet finally give us a full-length that fully delivers on everything promised on that initial release.
Heavy Flow explodes with a fury recalling snarling '90s noise rock queens like Babes in Toyland, early Hole and later L7, though The Breeders also come to mind in softer moments. Grungy, fuzzy guitar riffs slice like chainsaws through an unforgiving rhythm section, recalling the unforgiving attacks of Tad, The Melvins and Hammerhead. The vocals range from melodic Kim Deal harmonies to a brutal Kat Bjelland screech while mostly resting in a Courtney Love/Donita Sparks sneer. This is no mere throwback rehash, however – rather, it's the sound of three young girls grabbing rock'n'roll by the balls and leading it into the future on their own terms.
Skinny Girl Diet couldn't have dropped a more perfect debut full-length. Pick it up before they get huge.
comments powered by