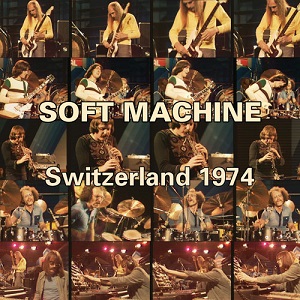 4 March 2015
By 1974, the Soft Machine had been through a whirlwind of lineup changes but that didn't stop founding member Mike Ratledge from bringing a young Allan Holdsworth into the fold. Ratledge and Co. worked up a whole new set to show off their new recruit in early '74, a set that would go on to become the influential fusion monster known as Bundles. The new lineup were invited to play the Montreux Jazz Festival in Switzerland that same year and thank god the fine folks at Cuneiform Records have gotten ahold of the performance at long last and are sharing it's treasures with the world.
The set opens with the intensely mind melting track "Hazard Profile." Holdsworth jumps right out the gate on this Karl Jenkins composition – a fusion classic if you're asking me. "Bundles" and "Land of the Bag Snake" find Holdsworth and drummer John Marshall hitting a stunning synced stride. "Peff" finds Ratledge and Jenkins having most of the fun with electric piano and oboe driving the train. "Riff II" from the Soft Machine album Six gets a roar from the crowd and lets the whole band loose for a moment or two before ending with a squeal of feedback.
Switzerland 1974 is thrilling from start to finish. For those into fusion, prog, krautrock and/or face melting of the jazz variety, this is the release of the year!