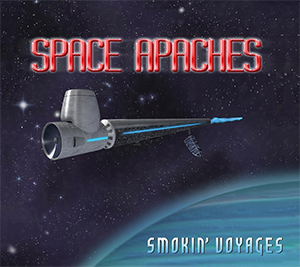 24 August 2015
Space Apaches is a group of musicians from Asheville, NC, and they are getting to set to release their new album, Smokin' Voyages. Self-described as "a psychedelic Eagles with a sense of humor," the album and the band is something of a tribute to late 60's psychedelic rock, but more of a lighthearted romp than a painstaking recreation, as hinted at by the title and cover artwork. As such, Space Apaches find themselves in a peculiar position—they're serious, talented musicians, but they don't have a problem with having a bit of fun and subverting the system.
While the lyrics are interesting and clever, the band would actually probably be among the first to tell you the real strength of the music is the acid-soaked jams between members, as is popular in the genre. Some of the best of these moments include songs "Sunrise," and "Breakin' The Ice," when the band is at its most alive and in sync.
The album is also galvanized with a handful of fitting covers; Larry Norman's "I Am the Six O'Clock News," "Just Dropped In," a song made famous by Kenny Rogers and the First Edition, and a somewhat gothic rendition of the country/western classic "Ghost Riders in the Sky." Smokin' Voyages, out November 9th, is a fun psychedelic treat for any fan of bands like The Grateful Dead, The Eagles, or Santana.
comments powered by