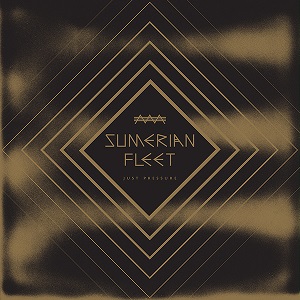 13 June 2014
Comprised of Dutch italo disco producers Alden Tyrell and Mr. Pauli with vocalist Zarkoff, Sumerian Fleet finally releases their powerful debut full-length after four years of collaboration and a pair of EPs.
Just Pressure boldly departs from the hi-nrg sound that has defined the electronic producers' catalogs. Rather than upbeat, sometimes sleazy, EDM, the trio delves into the darkness of gothic industrial dance music. The opening title track alone blends a rolling Killing Joke-ish drumbeat with Joy Division-like bass and Sisters of Mercy vocals, though following songs bare the aggressive arpeggiation of Nitzer Ebb, especially the angry, driving "On To You." "Gone For Good" plods into heartbreak territory somewhere between David Bowie and Soft Cell, while the instrumentals "Nebelwerfer" and "Patient #7" take dynamic electronica into shadowy territory. When "2047" closes the album, it provides a perfect comedown from the electronic intensity before it with a laid-back beat and musical arrangement reminiscent of an Italian science-fiction movie soundtrack.
While exploiting an avid '80s influence, Sumerian Fleet successfully bring industrial goth into the next millennium with smart, memorable songs propelled by energetic beats. The followup is eagerly anticipated.
comments powered by