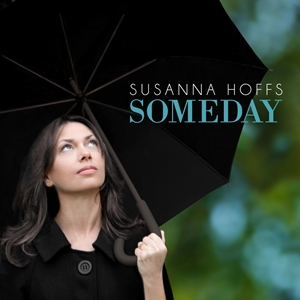 21 July 2012
As someone who would listen to Susanna Hoffs sing the dictionary, maybe a Swahili dictionary at that, every release with her on it is a must try. She has a gorgeous voice that is timeless in more ways than one. She has been the eighties pop vixen with The Bangles, nineties singer-songwriter, and then back to an age gone by as half of a sixties/seventies revival duo with Matthew Sweet. Now in the 2010's, Hoffs stays nearly half a century in the past to revive a solo career that has lied largely dormant for fifteen years. Thirty years after the first Bangles release, Hoffs's voice remains vital and unchanged. After the disappointment I felt with the last Bangles album, I was hoping a rebound was in order. With a big helping hand from co-writer/guitarist Andrew Brassell (of Southern pop rock band And The Relatives) and production of Mitchell Froom, Ms. Hoffs delivers just that.
I wasn't sure how I felt about the direction of Someday through the first listen but now on my fifth time through, I find a great deal of the tracks irresistible. The combo of the jangle and the Bangle (I know, cheap rhyme) on the album's first cut, "November Sun" (the only track not co-written with Brassell), is top notch retro pop with a nifty arrangement including strings, woodwinds, and electric piano. There's some R&B swing and horns blended with more strings on "Holding My Breath,". "Raining", co-written by Heartbreaker Mike Campbell, is a foot-tapping sleeper hit (if FM radio had any sense at all). "Always Enough," is a heartfelt, breathy valentine of the first order.
All of these instruments and contributors have helped to accentuate the greatest instrument of all. They blend in the background almost like a soft blanket that allows Hoffs's vocals to be as comfortable and vital as possible. These elements combined make the most complete and enjoyable album of new material Susanna Hoffs has ever released, including Bangles records. By the end of the album, you'll start to believe the almost mission statement on "One Day,": "Someday, I'm gonna make everybody love me (Hoffs)". Someday has come today.