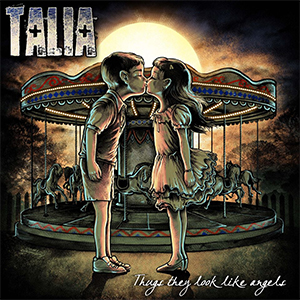 30 September 2016
The Parisian trio TALIA is back again with more of their fiery brand of alternative hard rock, speaking directly to the hearts of Millennials who grew up with posters of Kurt and Courtney on their bedroom walls. Combining the angular noise pop of The Pixies with the explosive nervous energy of Hole, the band is like a more anthemic, concentrated version of their 90's alt rock heroes, and the band is set to release Thugs They Look Like Angels later next month; their third full-length album, and follow up to 2013's Permanent Midlife Crisis.
The Pixies influence is strong on songs like "Play Dead," where Nicolas Costa's gravelly Black Francis vocals are augmented by the steady and guttural Kim Deal bass playing of Alice Thomas. But the band is not simply weighed down by their influences—in fact on many of the songs they strike out on their own territory from the melodic pop punk of "High Strung" (with a lyric from where the album gets its name) to the stadium sized hooks of the romantically misanthropic "Over The Line."
Thugs They Look Like Angels is due out October 16th, and is an album that is as comfortably footed in the recent past as it is the present, thriving in both equally.
comments powered by