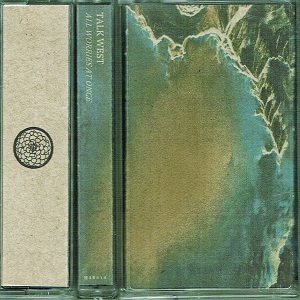 15 September 2014
Tulsa, OK artist Dylan Golden Aycock continues his high output over the last few years, this time with All Worries At Once from his project Talk West. Released in August by Austin, TX label Marmara, All Worries At Once finds Aycock assembling tinges of patterned synths, drone and gamelan into his singular guitar etchings.
Opener, "On A Serious Note" serves as a choice introduction to this stellar record. The short piece is trance inducing – the sonic equivalent to opening your eyes underwater. "That Dream Again (Part One)" glitches playfully as a lucid melody reveals itself. "For the Blind" enters kraut territory with some stout organ drones, reminding us of some of the most zen moments from Tangerine Dream. "Veined Strata" contains various gamelan nods, gaining in intensity before making room for the album's beauteous centerpiece "All Worries at Once."
The title track enhances the drone found on "For The Blind" and reintroduces the gamelan timbre of "Veined Strata" to create something wholly new from Aycock – the new ground being unearthed is magical to say the very least. Both "Circling Blindly" and "River By The Trestle" turn towards Aycock's earlier output without feeling rehashed, exhibiting both complexity and primitivism without awareness.
All in all, All Worries At Once is very successful, feeling like the next step for this rural artist and a comfortable plane for Aycock to reside on. The album is said to be an exercise in anxiety – here anxiety leads to enlightenment.