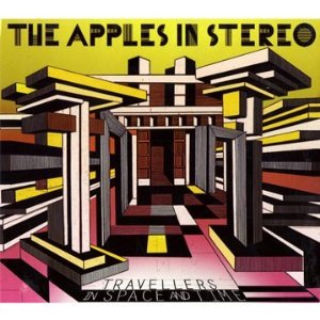 29 May 2010
The APPLES IN STEREO aesthetic – catchy, acid-tinged, low-to-mid-fi fizz-pop – was established with the band's first singles, and subsequent releases have basically refined and tweaked the formula ever since. That doesn't mean the albums are interchangeable, necessarily – some records may emphasize the psychedelia, others the guitar crunch – but you know what you're going to get with a new Apples record. The devils are in the details.
The title of the sextet's latest album might lead one to believe a psychedelic sci-fi opus is in the offing, a return to the lush acid lakes of The Discovery of a World Inside the Moone. In reality, Travellers in Space and Time downplays psychedelia for a batch of almost relentlessly upbeat pop music. The theme running through these songs is that the future is bright and we gotta wear shades, so the positive atmosphere makes sense – indeed, it's arguably necessary. Bandleader ROBERT SCHNEIDER responds with melodies that draw more from his love of ELECTRIC LIGHT ORCHESTRA than his infamous BEACH BOYS jones – while there are no direct rip-offs, a lot of the piano-based melodies and synthesizer-rich arrangements will ring some bells for Out of the Blue fans.
As has always been the case with Schneider's projects, this one threatens to topple into sugar overload – unsurprisingly, given his recent interest in children's music. But when the Apples nail it, they nail it – "It's All Right," "No Vacation" (co-written and sung by keyboardist JOHN FERGUSON) and "Hey Elevator" almost revel in their apple-cheeked sincerity and melodic irresistibility. It remains to be seen if Travellers in Space and Time is one of the Apples' best, but at the moment it's the most unabashedly crowd-pleasing and overtly enjoyable album in their catalog.
http://applesinstereo.com
http://www.yeproc.com
comments powered by