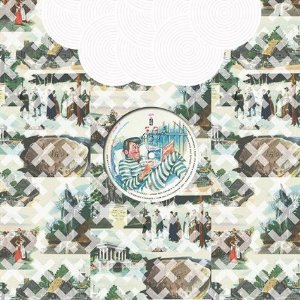 28 May 2010
There has always been a Pop-Art quality to the work of MARK ROBINSON, from his label Teenbeat's design sense to his Sammy Davis Jr obsession, etc. Cotton Candy, the duo of Robinson and EVELYN HURLEY (from the cheeky Blast Off Country Style), takes that and runs with it, in a bright, fluffy direction. The pace of the album, which veers constantly among pop songs, clips from what seem like 50s radio or TV broadcasts, and the band's renditions of ad jingles, resembles a sugar high from eating too much cotton candy.
The consumerist slant is also nostalgic; if cotton candy itself is the stuff of memories, the band is too. Throughout the album they sing jingles: "Charlie by Revlon", "Beef, It's What's for Dinner", "Clap On, Clap Off". Some work as segues, some become more than that, standing right there with their own songs. There's also the "Star Wars Main Title", not an ad jingle but might as well be. Sometimes it's hard to tell if the track are genuine artifacts from television culture or something similar that the band wrote themselves. Their lyrics in general have the confidence and distance of slogans. Their guitars and synths are played for their infectious qualities.
The whole thing is dreamy and fun. Cotton Candy works their pop-culture collage together with smart, bouncy little pop come-ons like "Top-Notch and First-Rate"; "Imagine That!", which has tuneful guitar, Vegas pizzazz and intimate whispers; and "Fanci Pantz", which boasts the lyric, "I have seen you there / I recognize you from your hair".
The album is pretty, stylish, and at the same time one big joke. The download version ends with an ad for itself, for the LP you're listening to, which is longer than most of the proper songs. Called "Teenbeat 457", it strings together song clips with an announcer saying things like, "From dance music to heavy metal, it's all here", in his best announcer voice.