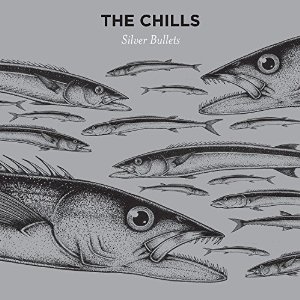 31 December 2015
The Chills are kiwi pop heroes. They are partly responsible for the now revered "Dunedin Sound" first exhibited in 1982 on the Dunedin Double EP released by flagship label Flying Nun.
Their singles compilation, Kaleidoscope World is something of a rite of passage for certain sects of music lovers and "Heavenly Pop Hit" from their 1990 major label debut Submarine Bells is nothing short of an underground classic.
Little has been heard from The Chills since 1996 outside of a mini-LP in 2004 and several compilations celebrating the band's past accomplishments. Enter Silver Bullets, the band's first full length in a decade. After many years of promising by frontman/songwriter Martin Phillipps, The Chills have finally returned with a full length record that pushes the band while leaving their pop mythology intact.
Phillipps and Co. return unscathed on Silver Bullets. When listening it almost seems impossible that a band could resume their career sounding so familiar and focused. Songs like "Warm Waveform" and "Silver Bullets" hark back to the band's heyday while sounding wildly contemporary. It doesn't hurt that modern bands like Real Estate are currently mining the sounds that Phillipps helped pioneer almost 35 years ago.
Phillipps' vocal performance throughout Silver Bullets is prodigious. The beauty of "Underwater Wasteland" and "Tomboy" would be a tall order for many performers but Phillipps makes them sound timeless. The word "timeless" comes up a lot when listening to Silver Bullets. "I Can't Help You" and "Molten Gold." are exemplrary tracks that display every single thing that make The Chills the fantastic band so many believe them to be.
Not many can do what The Chills make sound so effortless. Silver Bullets was worth the wait. Highly Recommended.