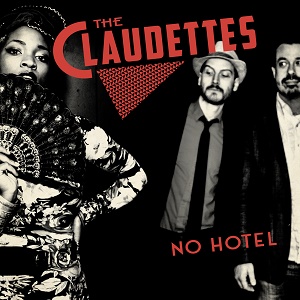 16 September 2015
Chicago piano/drums duo, The Claudettes, now expanded to a trio with the addition of vocalist Yana, attack the blues with the ferocity of punk rock on their sophomore album.
No Hotel puts the rock'n'roll in the rhythm & blues. Pianist Johnny Iguana bangs his keys with the aggressive precision of The Jesus Lizard's Duane Denison and David Wm. Sims in unison or Jerry Lee Lewis racing Little Richard through several instrumentals. Michael Caskey's heavy drums never hold back, laying down the beat with unbridled excitement. By the time Yana joins mid-album, lending her strong, sultry voice for a few numbers including a couple Serge Gainsbourg covers, the room is filled with smoke, rowdy and ready to explode. It's a forty-five minute barn-burning party that you never want to end.
Move over, Mose Allison. The Claudettes have arrived to give the blues a much needed kick in the ass. Instantly transform your room into a bustling town pub. Just remember to duck when the fights break out.
comments powered by