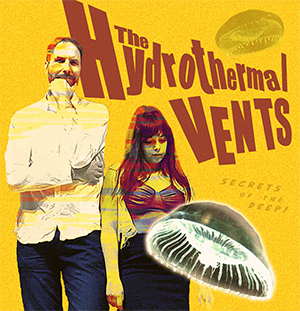 20 June 2014
Clearly, The Hydrothermal Vents have a deep love and respect for The B-52's, because the band's influence is audible and visible everywhere on their new album, Secrets of the Deep!, even in the very artwork. Adding influences from various other psycho-poppers like the Pixies, Talking Heads, and Kate Bush, what's interesting is that they've taken all of this and siphoned it into a more polished yet still off-kilter pop album. Instead of a pop exterior built around an eccentric skeleton, The Hydrothermal Vents sound like they have a more traditional background yet add these quirkier elements on top.
The duo is comprised of John Tielli and Tessa Kautzman, and although Tielli often sounds like Black Francis and Kautzman Kate Pierson, there's a lot more emotion and feeling in their vocals. Secrets of the Deep! sounds like the kind of stuff Joe Meek would have been producing had he still been alive, and, in fact, "Shark!" sounds like something by the Honeycombs. Elsewhere, the band channels their best Pixies on "Neptune's Grave".
Every song here seems to expand on the theme of their name, and almost every title alone seems to reference some element found under the water. It's a fascinating concept to take sometimes traditional musical topics and hide them under the guise of underwater exploration. The entirety of Secrets of the Deep! is unlike anything else being done today. It instantly stands out as one of the most original and different albums of the year, and is definitely in the running for one of the best. It's perfect for anywhere from the dance floor to your own bedroom. Secrets of the Deep! will be released July 5th.