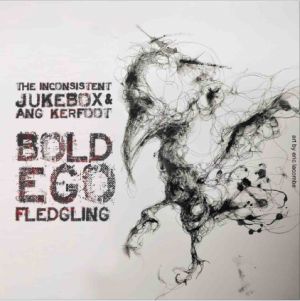 5 July 2016
U.K. musician/songwriter/mixer/producer Barry Snaith is spinning his atmospheric, alternative electronic soundscapes as The Inconsistent Jukebox, his solo and collaborative project that broadens the guitarist's horizons into the electronic rock and ambient realm. Upcoming single "Bold Ego Fledgling" consists of the original song plus 4 remixes and will be available August 5th via U.K. label Supersonic Media.
Snaith is no stranger to the creative collaborative process, having toured and recorded with the legendary artists The Ramones, Chrissie Hynde, Johnny Thunders, and David Johannsen as a guitarist. He has also written and produced compositions for fashion shows, the U.K.'s inaugural digital fiction installation, and many other projects. Snaith's previous collaboration was with internationally lauded radio DJ Jonathan L for the "Radio Boom" single that dropped in June on German boutique label Emerald & Doreen Recordings.
Snaith has a full plate of collaborative tunes to offer up on "Bold Eagle Fledgling", and the original version and remixes all feature the alluring and hard-hitting vocals of Las Vegas-based singer-songwriter Ang Kerfoot. Snaith enlisted a talented roster of musicians for the remixes, including Liz Cirelli, David Augustin, Richard Brown, and Born2Groove.
Snaith's established modus operandi is to focus on the whole artistic experience and not just the music. With Inconsistent Jukebox and his cohorts, he also draws from other creative fields like video, dance, graphics, and painting. The magnetic video for "Bold Ego Fledgling" features choreography by famed Parris Goebel (Justin Bieber, Rihanna, Janet Jackson, Jennifer Lopez) and Goebel's ReQuest Dance Crew. The single's artwork was crafted by Eric Lacombe, and Eco Rem (AKA Spaniard Pedro Acevedo) and Hungarian jaw harp specialist Konokunok also make appearances on the track.
The arresting "Bold Ego Fledgling" melds gritty electo-rock grind with a more fluid hip-hop beat, marching forward with forceful determination. Cycling, sharp electric guitar jags punctuate the pulsing electronic sparks and supple, hip-hop-styled rhythm. Kerfoot's makes her mark on the track, alternating between a dispassionate, slow-rapping delivery and a wistful, floating intonation where she longingly sighs, "Baby's got it all planned / Gonna start again… / Until she sees she's still among the undertow." Mellifluous guitar skeins flow with Kerfoot's words, providing shining, hopeful moments amid the darker sonic distortion.
comments powered by