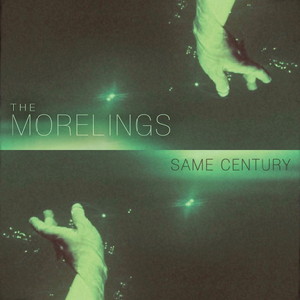 8 October 2017
The new release from Philadelphia's dream pop duo The Morelings is their finest work to date. It dropped in late September and I've finally carved out some time on this holiday weekend to savor their unique blend of trippy but dreamy sonic textures. They remind me in spots of Cocteau Twins and even Kate Bush, but in the end, they sound merely like themselves. Comprised of Kedra Caroline (on luminous vocals and bass) and Matthew William (guitars, bass, synths, piano), they also had help from a slew of musician friends (and perform as a five piece band when live). This work has paid off in a shimmering wall of sound, cascading down to entrance listeners. Kedra's voice is particularly gorgeous on the majestic "Before", which draws in elements of trip hop and the sort of eerie spaced out electronica that dominated TV soundtracks in the 90s (a high compliment from me since I picked up on a lot of cool bands that way). Stunning work!
"LYT" unfurls its flowery arms like a long lost Cocteaus gem, without the indecipherable vocals. Listening further, I am hurled back into a delicious 80s daydream, albeit one with far better production values than the standard fare of the day. "We Were" is a slow jam, one that should be a dance floor staple at proms (in an alternate universe). "Never Sure" is a song I keep returning to, and it's a sweet listen. "Same Century" ushers in some stellar synth pop, which is a sort of backbone to their main sound. "What You Want" is noirish and mysterious, all while it seduces you with its siren like tones. "To You" is ethereal and mines the same territory as prime Slowdive. The album shuts down with the minor key "Only I Was", and caps off a very fine release indeed. Highly recommended!
Catch up with the band on Facebook and over on their Bandcamp page.