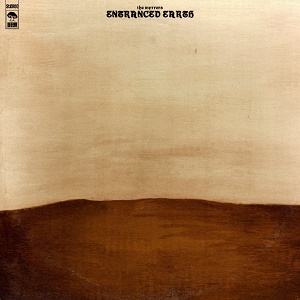 26 May 2016
Tuscon, AZ-based psychedelic warlords The Myrrors return with another dusty tome of desert-fueled spacerock.
Entranced Earth slowly builds with the intro drone of "Mountain Mourning," which quickly segues into "Liberty Is in the Street," a rhythm-driven song that blends White Noise Sound's sense of propulsion with Spacemen 3's freeform concepts and vocals recalling This Heat's signature monotone. When the guitar solo finally hits, it's like sand melted into sheets of glass. The haunting "No Clear Light" follows, falling somewhere between Stone Breath's ominous folk and the weird world music of Lifetones. However, gears shift into hyperdrive on the remaining four tracks, beginning with the title track where airy nature merges with vacuous space similar to Hawkwind's first two albums. At this point, the sounds become more of a suite than separate tracks, as the acid sheen of "Tallos" gives way to a twelve-minute alien tribal march with "Invitation Mantra." Finally, "Surem Dervish" ends on a note that blends The Thirteenth Floor Elevators with the heady grooves found on the Pyschedelic Salvage Co. compilations. It's LSD, mushrooms and mescaline blended into a single concoction of aural ecstasy.
The world of The Myrrors stretches and shifts on the trails of movement and light. We don't belong there, but they graciously allow us in for a quick visit. Don't take the invitation lightly.
comments powered by