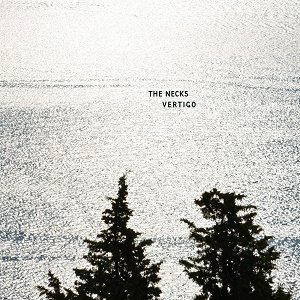 27 October 2015
Sydney, Australia's The Necks return with their eighteenth album of jazz deconstruction, which finds their improvisation floating on an ominous note.
Rising from an insistent, unsettling drone, Vertigo ebbs and flows with the musical tide of the three musicians. Pianist Chris Abrahams starts off with a consistent energy, something like Fred Van Hove caught in a mind loop. Eventually, percussionist/guitarist Tony Buck and bassist Lloyd Swanton briefly introduce themselves with a moment of German free jazz, allowing Abrahams to explore his frenetic journey before crashing in and again retreating to let the tension build. Sound stays in motion and the musicians shift in tone, from extremely dark to gentle light, a monochrome spectrum from white to gray to black unfolding in this new wave film noir musical. Even the brightest parts contain shadows reminding us that all is not always right. It's the soundtrack to watching three-dimensional shapes morph within TV screen set to snow.
Somehow, The Necks possess the uncanny ability to produce vivid imagery solely through the art of sound. You won't just listen to Vertigo, you'll also watch it. Get the popcorn ready.
comments powered by