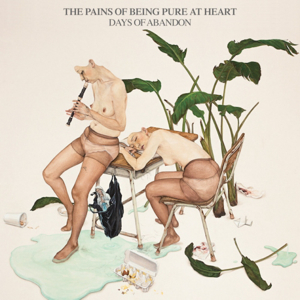 15 May 2014
From the moment opener "Art Smock" hits with something like radical gentleness, Days of Abandon imagines a way forward for original-members-shedding The Pains of Being Pure at Heart as Kip Berman's ably assisted solo project. No band that wanted to always keep making albums like the sublime Belong ever endured with the appropriate spark, or at all, so when Berman says, about its follow-up, "I didn't want to make Belong-er," he's not just shifting gears but choosing to survive. He describes a change from a "universal style of songwriting" to a more personal one on the new album, which makes little sense in terms of a band that's never drawn a line between the two, better sense as a means of softening expectations and/or requesting thoughtful listening.
It would've been handy, then, to see The Pains on their current tour, hear the songbook shuffled and figure out conclusively if there really has been a change in songwriting and not just in lineup, energy and production, but the night they played here I decided to stay home and cut my boyfriend's hair instead. Did I just say that out loud? Well, Berman still writes songs about tracing girls' spines, so my excuse pertains insofar as it involves gestures and priorities he might understand. In my concert experiment I suspect I'd have found a comfortable affinity between old and new, songs "blurred together into a heavy, strummy smear," again, but it's a moot point given the amount of attention the group gives to the sound of its records, each one distinct even as the song remains sort of the same. So I'll agree that universal Belong was like a collective dream of an album, given to one band to realize, and then insist that personal Abandon suffers no loss to the dream, only to the volume of its sell.
It's a beautiful record, never to a fault, if you value the craft. Or, if you prefer to emphasize its lightness, a pretty record, very deliberately so. If the group wasn't so intent on creating beauty, they'd have their choice of a number of less exacting approaches: they could reach for a kind of Treacy-esque elevated transcription ("Smashing Time Pts. 2~?"), they could knock out the "rock without intention, without design" referenced in "Art Smock," they could even become just "he" and follow the path of least resistance to singer/songwriter status. But it's to anti-singer/songwriter Berman's credit that he won't allow it, that the heavy work that leads from life stuff to lightness justifies his art. No less esteemed a personage than The Chills' Martin Phillipps gets the tantalizing lived quality of the music when he says, of that opening song, "They're good words and they have the ring of truth to them like something real actually happened to Kip Berman." Yes, but he stops short of noting that all instances of truth/realness are filtered through form, in such high fashion that I need only change a few words on Mecca to discover a "dense spiritual tone and resonance in the album that is not religiously based at all, but fully dream-pop based, emerging from the urban altars that are the bedrooms and rooftops of the city."
As the ambassador of this spiritual tone, Berman is a distinctly unforceful singer, which doesn't matter because he's a distinctly native inhabitant of his urban altar. His voice is the thing named by Cocteau Twins' "Pearly-Dewdrops' Drop," I think, and he'd probably prefer if he could create the same effect of his voice rippling the mix without exerting it at all. Meanwhile, and despite the departure of founding member and exemplary backing vocalist Peggy Wang, whose eventual step to the spotlight I'd considered certain, The Pains have a woman singing lead for the first time since 2009, when I fell in love with the band but failed to interrogate their anonymity, hearing The Sundays and Echobelly in the vocals and thus assuming them to be female. So, I should say, they have a woman singing lead for the first time, for real this time, and it makes a lot of sense and also works in practice, thanks to the instantly native Jen Goma (though if that's Berman with processing I might not be surprised).
She doesn't so much add variety to the album as help populate the dream, and (when Berman takes lead) propel the album's bigger choruses to appropriate heights. And here I pause to note that I probably went too far, above, describing the album as some kind of remote jewel. If I listed its primary types of songs, it would be obvious that upbeat material (giddy, even) dominates. There are the ones that sound like the bright, punchy, not-yet-undeniable thing that might constitute a Haim demo ("Simple and Sure," with its clean guitar chords, army of percussion, clipped voices hovering around the verse eager to take it to the chorus); ones where the litigation Phillipps imagines elsewhere in his missive should definitely be feared ("Masokissed" is "Ask," basically, and "Until the Sun Explodes" is "Just Like Heaven," entirely), these also highlighting the weird fact that most bands bearing comparison to The Smiths and The Cure do so despite the vocals, not because of; ones sung by Goma (these are second best) and featuring a kind of bouncy melancholy that implies Aztec Camera or Lloyd Cole, but not to a litigious extreme; exceedingly gentle ones (these are best); ones that look back to the debut's innocent and festive "A Teenager in Love" as a way around Belong, forward.
Basically I'd rank the songs according to how much of the heavier guitar sound of Belong they jettison, not because I wanted that to happen, but because Berman seems to have needed it. He speaks of returning to "original ideals" in the same artist statement from which I pulled the words "universal," "personal," and "light." I can't remember a time when ideals were absent, but I can hear how the less adventurous textures of Abandon could come from a place of absolute confidence and vision. Alas, if Abandon isn't quite as dense with thrilling gestures, nods, and effects, is that because the songs aren't as good or because they should be heard differently? A little bit of both, probably, but the latter is a more compelling case.