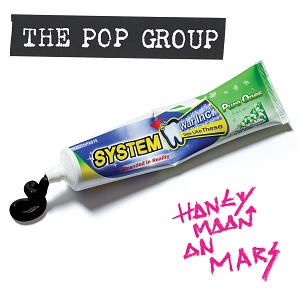 27 October 2016
Nearly forty years after their inception and six years into their acclaimed reformation, Bristol, UK's The Pop Group follow 2015's excellent Citizen Zombie with the culmination of their entire two-part career.
Produced by dub master Dennis Bovell and Bomb Squad/Public Enemy legend Hank Shocklee, Honeymoon on Mars pushes the leftist provocateurs deeply into our technocratic, oligarchic present where cyberpunk rebels blow up news reports instead of cars. Now their signature spasmodic unpredictability merges with electronic beats, synths and dub – rather than funk – basslines in a bizarre assimilation of Adrian Sherwood, early Ice Cube, recent Kanye West and modern Lee "Scratch" Perry. Vocalist Mark Stewart's desperate wails haven't changed, though, making this the perfect merge of punk, hip hop and dub reggae – something that notably has never been done right in popular music thanks to Limp Bizkit, Linkin Park and Rage Against the Machine. In fact, this is the album that will prove wrong all the crusty curmudgeons who still dismiss hip hop as a valid art form.
The Pop Group broke new ground when they formed in 1977 and they continue to do so today, especially now that everything they predicted has become commonplace. Tap into their present and discover the reality of their dark future.
comments powered by