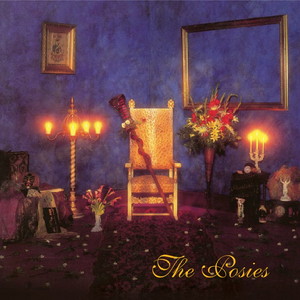 3 June 2018
I am honored and humbled to review this fantastic reissue of The Posies' second album, Dear 23, which first landed in 1990! The reissue is a 2-CD set and features the original album remastered from original master tapes, plus previously unissued bonus tracks. It's hard to believe that the group has been active for 30 years, despite the recent deaths of multiple members. Dear 23 was their major label debut on Geffen Records and it placed them on the cusp of international renown, which they achieved on 1993's Frosting on the Beater, which is due for a reissue in August. But I'm here to discuss the wonderful Dear 23, so rather than offer any more band history, which is readily available online, let's dive into the music.
"My Big Mouth" opens things up, and the band's debt to the brilliant Hollies is evident, yet they've put their own spin on the strum and jangle sound with big harmonies. "Golden Blunders" is marvelous ear candy with a memorable main melody and strong lyrics. And the muscle behind the sweetness kicks ass! That's what power pop is all about really, an amalgam of sweetness and light mashed with hard driving drums and bass, and these guys do it so well! "Apology" is a moody tone piece swathed with melancholy, unveiling some marvelous vocal lines and also giving a nod to Big Star, a band that Jon Auer and Ken Stringfellow played in, so it's all fitting. "Any Other Way" is terrific, just a perfect summer ballad. I could listen to it forever as a beautiful day stretches before me, though the lyrics probably describe a breakup. "You Avoid Parties" is a downcast acoustic number with heartfelt vocals and wistful lyrics. "Suddenly Mary" gives a nod to XTC (per the liner notes) and has an indelible melody. It's also my favorite song here, just grand! "Help Yourself" actually has glimmers of The Who and describes a fictionalized older, long term couple with issues, and Stringfellow also admits it channels some of his own experiences as a teenage father. "Mrs. Green" describes an unpleasant customer in the record store where Jon Auer worked, and reflects some of the band's jazzier influences. "Everyone Moves Away" tears at my heart as it describes families broken apart by divorce. Beautiful and essential. "Flood of Sunshine" is the band's oldest song and it clocks in at just over 8 minutes. It's pretty and I like the tinges of psych here and there.
The bonus tracks are almost all previously unissued, and it's really cool to hear alternate takes of these songs as well as read the liner notes from Ken and Jon about each song. Covers include The Hollies' "King Midas in Reverse" and Chris Bell's "I Am the Cosmos". The lilting "What Am I Supposed to Do" reminds me of Pete Townsend's solo work. "Diary of an Insecure Girl" was apparently the band's attempt to write a Game Theory tune, and the intelligent lyrics and catchy melody tell me they succeeded. "Will You Ever Ease Your Mind?" not only doesn't sound like a demo, it ended up on Amazing Disgrace. I love the way they hum on this one. "This One's Taken" is also great, with fantastic vocals and insightful lyrics. "King Midas in Reverse" is the perfect cover for these guys, as The Hollies loom so largely in their mix of influences. "Feel" is an interesting Big Star cover,and while it channels the spirit of Alex Chilton in the vocals and features the muscular guitar we all associate with Big Star, the guys jam out a bit in the middle. "I Am the Cosmos" is the very last track on this collection, and is a good way to shut down this excellent musical session. Current fans will revel in rediscovering this record and possibly hearing some alternate takes and other originals for the first time. Fans of Big Star, The Beatles, The Byrds, and like minded groups will adore this. Pick up the record over at Omnivore Recordings and catch up with the band over on Facebook.