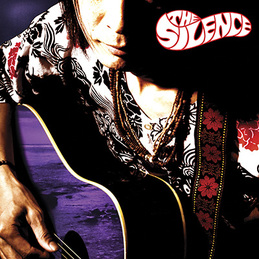 27 March 2015
Sometimes, you hear a record that captures not just the aesthetic of a previous era, but its magic. It's not just that the album sounds like music of a previous era, but how you felt when you first heard it. That happened to me on a first listen to the self-titled debut from Japan's The Silence, In one rush came back those moments when I first heard progressive rock bands like Jethro Tull, Yes, Gabriel-era Genesis, and (of course) Rush. The funny thing is that The Silence doesn't really sound like any of those bands (outside of the fact that the lyrics are mostly in Japanese). Sure, there are some mathematical similarities between this new album and the early psychedelic cosmic slop that formed progressive rock. But, there is a spiritual link between the too; a genuine sense that musical boundaries are illusory and constructed by man.
Even before the ink was dry on the announcement of Japanese psych commune rockers Ghost ending their 30-year run in 2014, founding member Masaki Batoh also announced the arrival of his new project, the Silence. Batoh, acting as principal songwriter, vocalist, and guitarist for the band, was joined by ex-Ghost players Futoshi Okano on drums and Kazuo Ogino on keys, lute, and various other instruments, as well as saxophone and flute player Ryuichi Yoshida and bassist Jan Stigter.
The power of this first album comes undeniably from the unbridled joy the band members seem to take in worshiping at the feet of those great early British art rock groups. There isn't any sly ironic winking, but full-on appreciation and it really works. I don't believe you can pull off something with the power of the album opener "Lemon Iro No Cannabis" while being ironic. As a result, that song is one of the best I've heard this year. That opening organ hitting with the brass is like a blow to the solar plexus, finished off with chicken soup.
Maybe I just give too much extra credit to fellow music geeks, but a group putting this much effort into the music they love is infectious, even for the staunchest prog rock hater. We hear a lot of call backs to psychedelic rock these days, but rarely is it accompanied by so much earnest enthusiasm (and seemingly never without dark, heavy studio effects). Furthermore, Batoh and company are proving that you can still push boundaries with that style. If you are the type of person that thinks they just don't make 'em like Traffic or The Move anymore, then The Silence is the album you've been waiting for.