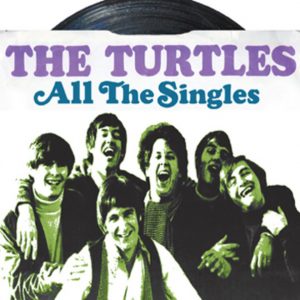 7 August 2016
Unless you've been the proverbial turtle in your shell or an ostrich with your head buried in the sand, you've been fully indoctrinated into the magic of The Turtles wonderful, heavy harmony laden music, from the always catchy "Happy Together" to the gorgeous chamber pop of "Elinore". Timeless doesn't begin to describe it really, this feast of musical riches will draw you straight back to the salad days of the mid 60s. At least, for someone who like me who was there and remembers the wonderful "Happy Together" on the radio back in those days, I am totally engrossed with this collection. For those of you who have no clue what I am talking about, go straight out and pick up this collection. Your ears won't be sorry.
A brief summary is helpful, so all you need to know is that co-frontmen Howard Kaylen and Mark Volman combined heavenly harmonies with highly infectious tunes that were at home on 60s radio, but they were also cool enough to work with Ray Davies as a producer on the adventurous Turtle Soup. They also had fun on The Turtles Present the Battle of the Bands, where they impersonated different fictional bands on each track. You can dive deeper into such albums by picking up the six disc box set, The Complete Albums Collection, which contains all their output from 1965-1970 and includes a wealth of rare bonus material. But let's get to the singles collection, which is highly worthwhile for any true music fan.
The A and B sides are all presented sequentially on two disks. For example, "It Ain't Me Babe", penned by Bob Dylan, is followed by its B-side, "Almost There". Both were released as the very first single on LA indie imprint White Whale. Taking on the folk rock of the day with this cover, the group used a different spin on the original and made it sound more like The Zombies. It has a sprightly feel with lightly textured instrumentation. The B-side is an all out rocker penned by Kaylan, fitting smartly in between all the British Invasion singles pouring out of the UK, such as "You Really Got Me". "Let Me Be" is the first of many songs penned by P.F. Sloan that the band covered, and it shouts out the feel of the day, which was a bit of rebellion mixed with a rejection of parental expectations. The B-side cover "Your Maw Said You Cried" is a Merseybeat nod to the Dave Clark 5 and The Kinks. "You Baby" is another top 20 winner, with beautiful harmonies and a feel good sound. And what a lovely lead vocal on this song! Just swell and terrific all around, with a bit of a Beach Boys harmony on the chorus.
"Grim Reaper of Love" was penned by the band's bassist Chuck Portz and lead guitarist Al Nichol, and a bit of trippy psych elements are filtered in. The song did not fare as well on the charts, but it showed that the band didn't want to get stuck in a musical rut. The B-side "Come Back"' was penned by Kaylan and bombed on the charts. The single was significant because it was the first time that both sides were penned by the band, but it would be the last time this happened until 1968. "So Goes Love" was originally unreleased, and is darker than the band's previous work. It did not appear until 1967 on a compilation, and features a fuzz effect on the bass. Though it evokes a minor mood, it is a lovely period piece penned by Gerry Goffin and Carole King. "We'll Meet Again" clears the clouds and it's a sunshine filled piece with great ragtime piano. "Outside Chance" is a nice example of early jangle pop, co-written by Warren Zevon and Glenn Crocker. "Makin' My MInd Up" is another single that didn't chart nationally, but was a regional hit in Seattle. And it's a shame, because it has good lyrics and a very catchy melody. The P.F. Sloan/Steve Barri penned "Can I Get To Know You Better" is just sublime, with marvelous harmonies and is altogether stellar. But it didn't hit the top ten, and had to be registered as a disappointment by the band. "Like the Seasons" is a pretty Warren Zevon tune, as nice an example of baroque pop as you were likely to hear in this period. "Happy Together" is the quintessential 60s song, a tune that remains in my top ten singles of all time. It has all the perfect elements, the beautiful and strong main melody and the sky high harmonies. Just wonderful! This is followed by the amazing "She'd Rather Be With Me", another #1 hit for the guys, written by the same team (Garry Bonner/Alan Gordon) that penned "Happy Together", and it's a fun tune with horn arrangements making it even more special. "The Walking Song" is written by Kaylan and Nichol and has some fun vocals, definitely not the usual fare recorded by the group. "Think I'll Run Away" is a pleasant B-side written by Flo and Eddie with some nice string arrangements. The third song written by Bonner and Gordon that the band recorded was the lush, complex "You Know What I Mean". It wasn't a huge hit, but it's a marvel of sonic splendor with some sitar way down in the mix beneath layers of lofty harmonies and strings. The B-side "Rugs of Woods and Flowers" is rather silly and sounds like a different band! "She's My Girl" is another classic from Bonner and Gordon, and has a tinge of psychedelic color along with slightly risque lyrics. Nice! The last song is the sitar-driven-with-country-overtones "Chicken Little Was Right". For some reason, it reminds me of The Who, at least on some of the vocal parts. It is an adventurous and interesting tune that was remade for The Battle of the Bands.
"Sound Asleep" opens the second disk, and in parts, I am reminded of The Move. It's truly a kitchen sink of sound, a melange of many different elements that add up to a somewhat pointless but really cool song. The flip side "Umbassa the Dragon" is even further out. It's The Turtles flying their freak flag and having some fun on the side. "The Story of Rock and Roll" is another complicated tune with a lot going on, a song penned by Harry Nilsson and one that shows the growth of the band. Unfortunately, despite a lot of neat ideas and cool brass, the song went nowhere due to other versions already charting before its release. The magnificent single "Elenore" is a return to form, one with excellent lyrics and a great killer hook and chorus. Written by the whole band, it's a sound that worked really well for the band, and it's a song that has weathered the test of time. Just brilliant, guys!
The B-side "Surfer Dan" is a slight return to surf rock, with The Beach Boys and Jan and Dean hovering in the background, right down to the wahoos and Dick Dale inspired guitar. The band also did a Christmas single that flopped, "Christmas Is My Time of Year". It's no better or worse than any other Xmas single, and is an interesting artifact. "You Showed Me" is an exquisite single written by Gene Clark and Roger McGuinn of The Byrds, and it was the band's third and final #1 single. Feeling a lot of pressure from White Whale for a hit, they really lucked out on this one. Turning the song into a slow, moody ballad from a faster paced song, the guys knocked it out of the park. The B-side "Buzz Saw" is a fun, R&B styled garage romp with groovy organ and a fuzzed out guitar. If the great "House On the Hill" is reminiscent of Village Green era Kinks, it's no wonder. Ray Davies produced this song and the album it was drawn from, Turtle Soup. Davies also produced the lilting "You Don't Have to Walk in the Rain". I really love the vocals on here, especially on the chorus. Possibly the best song culled from Turtle Soup was "Love In the City", which has a Ray Davies patina to its slowly unfolding story and graceful melody. "Lady-O" is full on baroque pop with beautiful strings, written by Judee Sill. Majestic and lovely, this is one of my favorites in this collection. I also hear where it might have influenced Queen! "Somewhere Friday Night" sounds like something Spirit might have recorded, and it's an instantly recognizable tune, but of course, I followed the Turtles closely in my youth. "Teardrops" was recorded under the moniker of The Dedications, and it's a cute, doo wop song. The surf's up with the rowdy "Gas Money" written by Jan Berry and a few other folks. A song penned by P.F. Sloan (the ubiquitous "Eve of Destruction") and a second co-written with Steve Barri (the luminous "Is It any Wonder?") are close to the end of this fine collection. "Eve of Destruction" is as you'd expect, and the words resonate in these terrorist filled times just like they did long ago. "Me About You" is a last fling with Bonner and Gordon, and it's a nice, upbeat tune, but it hung at #96 before fading away after a six week stint on radio.
Truly, this is a brilliant and fascinating compendium of songs, one that any self-respecting fan of classic 60s pop should pick up. Highly recommended!
The album is available at all the usual media outlets, or direct from Manifesto Records.
comments powered by