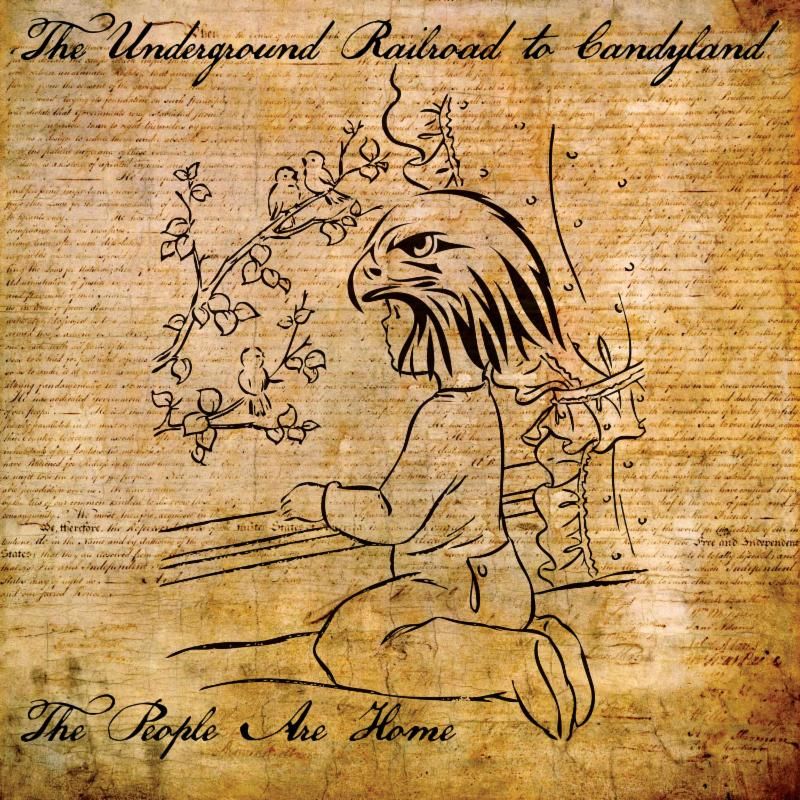 26 May 2015
I've long held that the hardest reviews to write are the ones about albums I genuinely love. When I sit down to write one of these and am completely stumped, it usually means I'm onto something special. It is that moment, when my own emotional response to the music goes far beyond objective analysis or even the ability to form basic sentences, that explains why I do this. Nevertheless, it still poses a problem. If I have nothing to say about the record, how am I going to convince you to pick it up? How could my words possibly do it justice? "Just go listen to the damn thing! I mean it this time!" This has only happened a handful of times over the last few years, but each time it has, the album has been in constant rotation on my iPod ever since; Danielle Duval's Of The Valley, Father John Misty's Fear Fun, Nude Beach's II, Screaming Females' Live at the Hideout. Luckily, it is the same problem I'm facing today when trying to put something together for the new LP from The Underground Railroad to Candyland, The People Are Home.
The Underground Railroad to Candyland (and yes, I thoroughly enjoy writing this band name) are Todd C. (vocals/guitar), Jimmy Felix (Drums), Chachi (Fun Station), John Predny (Trombone), Jack Doyle (Bass), Trevor Roundhouse (Extra Drums), and Sean Cole (Slide Guitar). Todd C. was also responsible for recording The People Are Home at Clown Sound Studio in San Pedro, CA. It makes a lot of sense that this album would come out of the same cradle that produced punk greats Minutemen. The Underground Railroad sport the same raw energy that you heard on a listen to Double Nickels. There is a genuine sense that anything is possible with their music. Except, where Minutemen deconstructed the world, Todd and the boys seem equally interested in building something behind them.
The Underground Railroad to Candyland is a gloriously democratic, technicolor chaos machine.
That's the one phrase I was able to write down after three weeks of listening to this record. I kept circling around it, trying to find another angle at this review, but that was all I could come up with and I'm still not sure you wouldn't be better off if I simply posted it alone. This isn't one of those bands that has one musical hero who saturates the entire ethos. Instead, the songs on The People Are Home swirl with influences from everywhere, without being a slave to any. There are big rock choruses you might expect to hear from early Mission of Burma, crashing in-the-red percussion that could fit nicely on a Built to Spill album, goofball post-apocalyptic punk attitude that seems to come from Half Japanese, and that wonderful jangle guitar tone that reminds me of The Only Ones. It's all here, and in a perfectly chaotic balance throughout the record. I could apply any number of genre buzz words to this sound; lo-fi, garage, psychedelic, punk, DIY, jangle pop, etc., etc., etc. Again, I don't think any of them do the band and their sound proper justice.
It's hard to pick individual moments from The People Are Home out as highlights. Of course, the anthemic title track and "Diamond Ring" will be the first things that stick to your brain, but as I've listened to the record more and more, the whole thing plays as one piece. It is one corner of the musical world that doesn't sound like anything else being created right now. Even the whacko instrumental "Omstro" (which also sounds like it could have found a home on one of those old Minutemen records) is a highlight because it fits in so perfectly here where it wouldn't on any other album you'll hear in 2015.
The People Are Home is everything in one album. This is party music. This is music for an afternoon walk. This is music to put on in the gym or on your way to work. If someone where to ask me why I listen to music, this would be one of the albums I would play for them. All the better that The Underground Railroad to Candyland don't seem to give a shit about any of that. They are just trying to 'make a happy noise here'. That is exactly why The People Are Home is the best album I've heard this year. Just go listen to the damn thing. I really mean it this time.