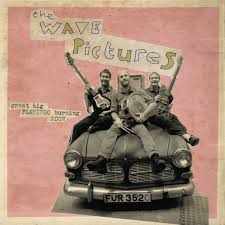 17 March 2015
The Wave Pictures are an English rock band featuring David Tattersall (vocals and guitar), Franic Rozycki (bass guitar) and Jonny Helm (drums). The band has its origins in a group called Blind Summit, which David and Franic formed with Hugh Noble in Wymeswold, near Loughborough in Leicestershire, in 1998. The band changed its name to the Wave Pictures and Noble was eventually permanently replaced by Jonny Helm. They recorded and self-released a string of albums before settling in London.
The Guardian has described their work as "charming, witty pop songs shot through with Jonathan Richman's gawky glee and Suede's doomed provincial romanticism… They owe a certain debt to The Smiths, and Tattersall has Morrissey's knack of marrying the ridiculous and the sublime". The band have collaborated with the likes of Darren Hayman (Hefner), Herman Dune, Daniel Johnston, Jeffrey Lewis and the Mountain Goats, though none of that should give you a good approximation of what you'll be walking into with Great Big Flamingo Burning Moon.
The new album was produced by and co-written with punk art legend Billy Childish (Thee Milkshakes, Thee Mighty Caesars, and a lot of other stuff) and recorded entirely using his equipment, including his 60s Selmer amps, a 60s drum kit and his rocket-ship shaped guitars. Great Big Flamingo Burning Moon also features backing vocal contributions from The Chatham Singers' Juju Claudius on the track 'I Could Hear The Telephone (3 Floors Above Me)'.

"[Childish]..was a joy to work with and we love the record. It was the most fun we've ever had making a record and to us it's the most exciting thing we've ever done".
-Dave Tattersall
Great Big Flamingo Burning Moon
is the band's fourteenth LP release (depending on your definitions of 'LP' and 'release'). Nevertheless, this album doesn't sound like the work of battle-hardened professional musicians. The Wave Pictures still sound like a group of nutty kids tearing apart blues songs in someone's basement. I mean that as an absolute compliment, because it is the roughshod approach that keeps these songs interesting. This is how rock n' roll should sound, and I feel like The Wave Pictures have an absolute appreciation of that fact. The Guardian's Jonathan Richman comparison is fairly apt, but belies a certain darkness in Tattersall's vocals. In many places, he comes off like the mad scientist explaining his dastardly plans; or maybe just Richman's evil twin brother with a cleft palette.
Focusing too much on Tattersall's vocal would be a mistake however, because what makes Great Big Flamingo Burning Moon truly special is the interplay of the band. These guys play absolutely dirty blues against the vocal, which creates an altogether fantastic sound. Take their cover of "Green River". Here is a song from the CCR catalog that I've never really given much consideration; just another party blues track. But, in the hands of Wave Pictures, it is something different altogether. Tattersall's vocal floating over the swampy arrangement sounds like a New Orleans dandy playing with the voodoo for the first time and it is exactly the way this song should always have been played.
It's easy to overthink a recording during a review. That's part of the writing process. So, it is really difficult to discuss a band like The Wave Pictures. Their ultimate strength lies in that magical place where no one is overthinking anything. It's a little blues. It's a little psychedelic. It's a little punk. But, I doubt the band has spent much time trying to define themselves. They are just playing great, dirty rock music, aesthetic be damned. That's how their music should be enjoyed. Just sit down, put Great Big Flamingo Burning Moon on, and have a good fucking time.