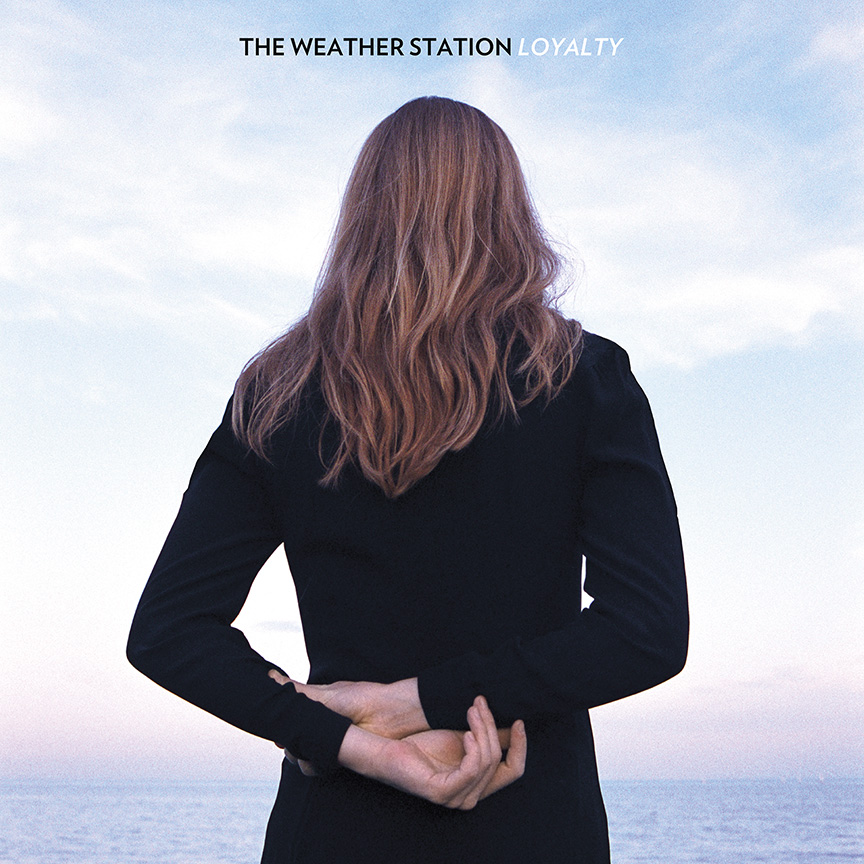 13 May 2015
It may just be my own personal tastes getting satiated, but 2015 seems to have already been a great year for fans of folk music. Now that the mustard has finally come off of folk pop combos (it seemed for a time that every press release I received was for a band that 'sounds just like Fleet Foxes and Mumford & Sons'), we have finally gotten back to the sensible business of looking at some more traditional artists. Maybe it is a ripple effect of the great work being done by Laura Marling that some of these people are gaining wider acclaim. Regardless, the music has been pretty damn impressive. Just in these first six months, I've devoured albums by Dorthia Cottrell, Alasdair Roberts, Robin Adams, Tomas Pagan Motta, Jose Gonzalez, Andy Shauf, and now this new outing from Toronto's The Weather Station.
The Weather Station is a folk project fronted by singer/songwriter Tamara Lindeman, formed in 2006. The band membership has changed over the years, but now includes Lindeman, with Ben Whiteley on bass, Adrian Cook on pedal steel, and Ian Kehoe on drums. Their debut album The Line was released in 2009. The second album, All of It Was Mine, made in collaboration with Daniel Romano, was released in 2011. Lindeman was a nominee for the 2013 SOCAN Songwriting Prize for The Weather Station song "Mule in the Flowers", cowritten with Steve Lambke. Released this week, the group's third album, Loyalty, was recorded at La Frette studios near Paris with Afie Jurvanen and Robbie Lackritz (Bahamas, Feist, Zeus, Jason Collett).
I suppose the single string tying all of the aforementioned great new folk albums together is that there is a return to basics feel amongst them all. The sound is quieter. The instruments are fewer. Oh, and there is a lot of old world European folk in there too. Loyalty shares in that kinship. Lindeman's songs have been compared to compatriot Canadian folkie Joni Mitchell. Tamara's gentle flowing and jazz inspired vocals certainly bring Joni to mind, but The Weather Station also recall other artists like the swirling arrangements Richard Thompson ("Way It Is, Way It Could Be"), the sweet simplicity of Dawn Landes ("Loyalty"), and the brooding delivery of Cowboy Junkies' legendary frontwoman Margo Timmins ("Tapes").
Over the last few years, I've been focusing a lot more on the utility of particular kinds of music. Alasdair Roberts is great for putting on after a hard day at work. Robin Adams is best for those times that you just want to be left alone. Tomas Pagan Motta is perfect for a lazy summer day. So on and so forth. Loyalty is early morning music. This is the record you put on to ease yourself into humanity. Sure, it helps that the music is gentle and Lendeman's vocal is melodic and subtle. Beyond that however, Tamara is writing songs that are just chock full of hope and faith; hope in the world and faith in its people. Like her great influences, this lady knows how to tell a story with every part of her performance. But, it all starts with that wonderful writing style. The story itself has to be good enough before the performance begins. If I have any chance of getting through the day without breaking down in a fit of rage and depression, it'll be because The Weather Station was the first thing I heard. That's how good the songs are. There are worse roles to play.