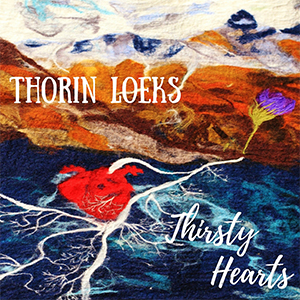 2 January 2017
Although it's only been a few days, the consensus, looking back, has already been that 2016 was a turbulent year, to put it kindly. North Vancouver folk artist Thorin Loeks' latest album, Thirsty Hearts, seems to echo many of these sentiments. It's a further testament to the record's power that it accomplishes this even though it was predominately written about Loek's own personal experiences and was actually released closer towards the beginning of 2016, not the end.
Songs such as the saturnine "These Crazy Days" with lyrics like "Lord it's not easy/When it all feels out of control," or the equally uncertain "Crossroads" speak just as much to an entire planet's shared experiences as Loek's own. Yet it's not all doom and gloom for this singer-songwriter, and he manages to retain a cautious sense of optimism and hope, if he's nevertheless not entirely bereft of cynicism. The title track, "Thirsty Hearts," is a great example of this, and while he wonders why there isn't more respect and mutual understanding around him, he doesn't completely eliminate the possibility of it getting better.
Thirsty Hearts is now, more than its original release date, an incredibly relevant and powerful record that speaks directly to the uncertain and transitory impasse in which we are currently living in.
comments powered by