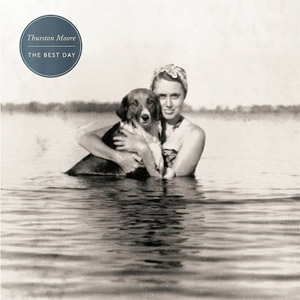 3 November 2014
After the hiatus announcement of Sonic Youth in 2011, the underwhelming Chelsea Light Moving LP in 2013, and a mild solo career, Thurston Moore reappears with the best solo record of his career entitled The Best Day.
Released on October 21st by Matador Records, The Best Day finds Moore joined by James Sedwards (Nought), Deb Googe (My Bloody Valentine) and Steve Shelley (Sonic Youth) to create 8 compositions that properly transmit Moore's raw talents while pulling a few moves from some of Sonic Youth's modern classics like Murray Street and Sonic Nurse.
Opener "Speak to the Wild" unfolds a haunting jazzmaster harmonic theme before jumping headlong into a whirlpool of profound riffage and post-beat prose. "Forevermore" wields some divine tailpiece noise before going full on krautrock with Shelley getting in touch with his inner Jaki Liebezeit and Googe subtlely pushing the dynamics at just the right times.
"The Best Day" is the first single and most pop oriented song on the album, Moore even getting a little bluesy here and there. The 'Classic Rock' sound of this one does seem a bit out of context but is inevitably pardoned by the track's zen-like conclusion.
The late instrumental "Grace Lake," reads like a heady re-working of SY's "Rain On Tin" and closer "Germs Burn," while not Moore's finest lyrical or vocal work, does hit on some peak zone guitar before fading out.
On The Best Day, Moore is framed as an artist who has an unexampled point of view that only he, his guitar, and his band can convey. It's his most centered work to date and may be the record of his career.
comments powered by