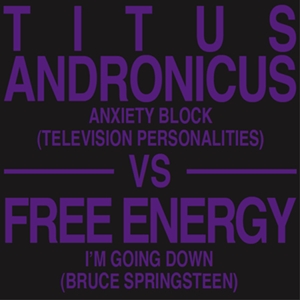 19 September 2010
Titus Andronicus, having already released a stellar album this year full of epics, release this more compact A-side. "Anxiety Block," is a peppy number originally from the Television Personalities' 1982 record They Could Have Been Bigger Than The Beatles. Patrick Stickles and band do not take any undertaking lightly as the passion in his voice and the band's playing denote respect for the song.
Though I really don't like Bruce Springsteen (when did he become "The Boss" and boss of what?), I'm a sucker for a Springsteen cover. While Titus Andronicus may have made more sense covering this because of Stickles's raspy voice and Jersey Roots, Free Energy does what more acts should do with Springsteen songs: cheese them up. Being signed to James Murphy's (LCD Soundsystem) DFA Records, you expect them to bring, well, energy, and a fun attitude.
So if these bands come to your town and you see this 45 on the merch table, it is definitely worth picking up. Only 450 were printed and, one day soon, Titus Andronicus aren't going to be playing your favorite little club anymore. This is a band on the cusp and, in a few years, you'll be lamenting over how you knew them when and how The Monitor is better than anything they do now and that you have this single and it only cost $5 and people would give you a hundred, maybe two for it. Don't you want to be that guy?