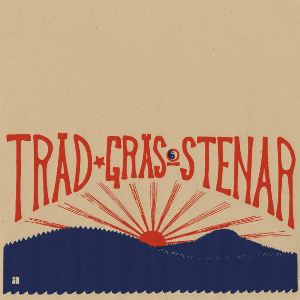 4 April 2016
Hearing Scandinavian extraterrestrial outer limits band Trad Gras Och Stenar in the early 70's must have been a mind fuck. The sounds this band was able to create is nothing short of deathless. Their two Tall Records releases, Djungelns Lag (1972) and Mor Mors (1973), are miraculous slabs of burnt improv that had limited pressings and are considered as valuable as Rhodium by collectors today.
Luckily, Anthology Recordings is re-issuing each of these albums for the first time ever on vinyl. In addition, the set includes a double LP of unearthed 1971 live recordings from original member Jakob Sjöholm's own stash entitled Kom Tillsammans, all of it in one 6 LP boxed set!
From Djungelns Lag, it does not get much better than the slow heat of "Gryning." The peak achieved at the 7 minute mark in this meditative jam is borderline religious. Another highlight includes the mouth harp and fiddle led kosmische of "Munifiol."
Mor Mors may be the band's defining statement and the sets standout. With the tranquil open of "Sangborn," the krautboogie of "Klangbron," and the spaceway psych of "Rocktrall," Mor Mors is a highly enjoyable, yet abstruse work.
For those with more of an ear for the outer regions of the omniverse, the 1971 recordings collected on Kom Tillsammans is where you may want to be. The live version of "I Lijuset Av Din Dag" is stellar, sounding like a runaway San Francisco train headed toward Berlin. "Ragatrall" plays sibling to Mor Mors' "Rocktrall," but here it's slowed way down to a yielding dirge. The band's brain bending take on "Last Time," the 1965 debut single for The Rolling Stones, is almost unrecognizable to the original yet just as hypnotic.
If 6 LP's worth of Trad Gras Och Stenar sounds like overkill, you're not in the right solar headspace. This is Aurora Borealis on wax! Bands like Chrome, Spacemen 3, Bardo Pond, Sun City Girls, and Endless Boogie would not be with these Scandinavian heathens. Much like Sun Ra and Don Cherry, Trad Gras Och Stenar expanded the atmosphere with their music and by doing so, made room for so much more to occur.