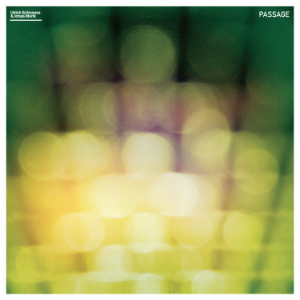 22 January 2017
Ulrich Schnauss and Jonas Munk are both well known figures in the electronic music scene, and this is their second collaboration album, the last being 2011's No Further Ahead Than Today. But to listeners who may not be familiar with their past work, Ulrich cut his teeth as a drum and bass producer in Berlin, before releasing a series of dreamy records on labels such as Domino. Since relocating to London in 2006, he's worked with Engineers and Longview, remixed many artists, and has been a member of Tangerine Dream since 2013. Jonas was originally known to the electronica community for his Manual albums, but has also had a successful career as a producer on the European psych scene as well as film scoring and experimental minimalism.
So, on to the music. As with any instrumental music, it's often about the emotional and aural journey it takes you on. There are no lyrics to grab hold of, and whatever the composer's intentions, it's down to how the listener interprets it. This is both freeing and constricting; the constriction comes with the somewhat difficult task of describing the music. I think it also depends on the listener's mood going into the listening cycle. At present, I am faced with moody gray skies and the recent pall of the US election hanging overhead. Despite these shadowy filters, the stellar nature of this uplifting music shines through. Witness the gorgeous opener "Amaris", which will thrill dream pop fans and remind you of late period Engineers. Rich with melody and grand passages, it is crammed with sparkling notes that chime pleasantly in your ears.
"genau wie damals" is an ambient thing of beauty, with waves of sound lapping at your ears with a gentle hiss. It picks up after about a minute with hushed percussion and guitar pushed up front in the mix, which is soon joined by pretty keyboards. The press release says it has progressive shadings, but I'd be hard pressed to point to any overt influence. There is a lot going on in the mix, and it demands headphones for full appreciation! The influence Schnauss had on late period Engineers is so clear when you hear this. "Anywhere But Here" is engaging and spacey, tugging at the heartstrings with its evocative sound tapestry.
"Intervention: Sol" is a short, trippy instrumental that you wish were extended a bit; it's cinematic and beautiful in its brevity. It leads straight into the fast moving electronic arms of "MST", a tune that almost can be categorized as post punk. It has the slippery, thick bass and Cure like cadence that fans of this genre expect, before it moves past and blooms into exuberant electronica with a cinematic sheen. "Ao Hinode" is six minutes of mind-expanding electronic music, layers and layers of pulsating synths nipping at your senses. It ripples in a refined manner and fans out to widescreen dream pop that is fit for an art film. "Spellbreaker" returns to a dark wave space, dripping with icy synths and a fat band of percussion and bass. As before, the duo are not content to stay with one theme and branch out to a majestic wave of post rock that engulfs the listener with melodic glory. It is succinct and could work as a single. "Intervention: Stjerner" is beautiful, blissed out electronica, and the billowing clouds of synth is a balm to the senses. And of course, it's criminally short.
"Caffeine Blues" is an abrupt right turn to jazz-inflected motes of sound, pushed way up in the mix and containing organic and tasteful guitar woven into the walls of synth, all of it dazzling. The percussion almost takes on a bossa nova feel, and is one of the high points of an already excellent record. "Coastal Path" is the final stop on this release, and it's the longest track here. The pair pull out all the stops, offering up a shimmering web that entrances you as it winds about, populated with the usual keyboards but also containing some lovely guitar work. Synths retreat for a time, but remain fixed in the backdrop as guitar takes the stage. I also love the shimmer and shine heard way in the background as fuzzy synths clash with lilting guitar. It winds down to a silky finish on this immensely satisfying recording. The duo manage to infuse warmth into all these compositions, and that requires a deft but light touch on the electronics, knowing when to hold back and figuring out when to punch through aggressively. It's a fascinating journey with the exceedingly pleasant company of this suite of songs. Highly recommended for all fans of this duo and also for those who enjoy Engineers, Tangerine Dream, dream pop, electronica, and majestic film scores.
Order the album over at Azure Vista on Bandcamp and catch up with the artists on the Azure Vista Facebook page.
comments powered by