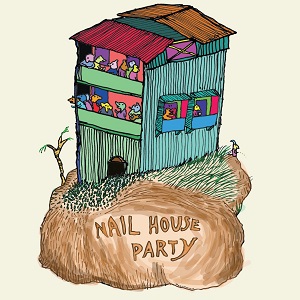 22 July 2015
Emotional Response Records showcase their roster with an excellent collection of lo-fi pop nuggets.
Fuzzy, loud and home-recorded, Nail House Party rises from a generation raised on Lou Barlow, Robert Pollard and C86. Through twenty distinct tracks, mellow indie pop (Ginnels, Tangible Excitement!, The Cannanes, Bright Lights) merges with mod (Hulaboy, The Safe Distance, The How), while noisy hardcore (Lögnhalsmottagningen, Hard Left, Frau, Bad Guys) rubs shoulders with fuzzy garage rock (Bad Daddies, Kids on a Crime Spree, Grrr!) and dream pop (American Culture, The Debutantes). Then there are the oddities, like The Wanda Junes with their acoustic Western folk, Victorian Slang's frat party Rolling Stones vibe, Mia Schoen's synth pop and the Style Council-ish soul of Rooibus Orbison. It's the soundtrack to your next all-nighter with friends and favors.
Where most label compilations sport a few standouts encompassed by excess filler, Nail House Party hammers it in with an excellent selection of music from beginning to end. You'll be cursing Emotional Response for all the money you spend on their releases.
comments powered by